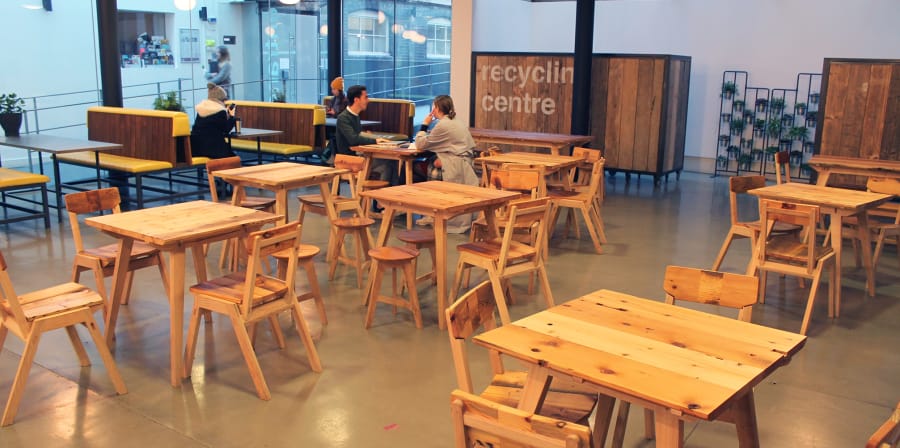 With a focus on health and sustainability, the Chelsea canteen offers meals cooked with local ingredients. Take a look at our menu below.
Soup station - Tomato and basil
Main menu - Buttered organic wholemeal spaghetti Rother Valley organic beef ragu, dressed rocket, rustic garlic bread and parmesan
Vegetarian - Aubergine and chickpea korma with a tomato and coriander salad, poppadom and mango chutney
Concepts - Cajun rubbed free range Norfolk chicken leg with spicy wedges and Chegworth Valley mixed salad
Snack - Pizza bar
Soup station - White bean
Main menu - Rother Valley free range chicken, chorizo and wild mushroom pie topped with puff pastry and cheesy mash potato served with steamed buttered cabbage
Vegetarian - Organic macaroni with goats cheese and red onion chutney served with home baked garlic bread
Concepts - Rib shack
Barbecue spare ribs marinated for 24 hours and slow cooked for 12 hours so the meat literally drops off the bone - with fries and slaw
Snack - Pasta bar
Soup station - Leek and potato
Main menu - Mexican kitchen
Mexican shredded Rother Valley organic beef burrito or charred squash burrito filled with rice, black bean salsa and sour cream
Vegetarian - Gambian yassa bean stew with roasted new potatoes and mixed vegetables
Concepts - Vegetable Asian dumplings with stir fried noodles Asian style greens
Snack - Pizza bar
Soup station - Roasted cauliflower
Main menu - Japanese style crispy panko Suffolk chicken breast served with coconut rice, mirin pickled carrots and Java sauce
Vegetarian - Stuffed portobello mushrooms with feta served with mixed green salad and warm bread rolls
Concepts - Falafel Street
Sweet potato falafel with hummus, mixed salad and soya mint yoghurt wrap in kobez bread with chips
Snack- Chicken shack
Soup station - Spicy red lentil
Main meal - Catch of the day
Crispy battered or baked responsibly sourced haddock or cod served with chips, freshly made tartare sauce and lemon wedge
Have the above with roasted fish!
Vegetarian - Potato gnocchi in a creamy tomato and spinach sauce serve with homemade garlic bread
Concepts - A quarter pounder 100% beef with a slice of cheddar cheese, onions, pickles, shredded lettuce in a sesame topped bun with French fries
Snack - Pizza bar
Menus are subject to change at any moment, apologies for any inconvenience this may cause.