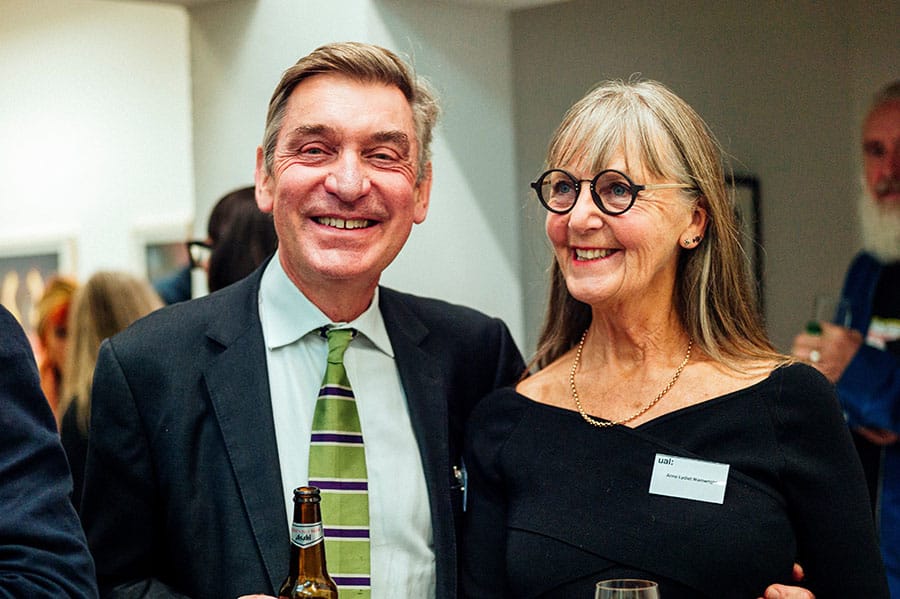 The mark of a life is immeasurable…
Hundreds of guests gathered at Chelsea College of Arts, UAL on the evening of 11 October 2018 to celebrate the life and work of former Pro Vice Chancellor and Head of College, Professor Chris Wainwright who died last year.
The impressions Chris left behind take the tangible forms of his photography, art and curation and some of his recent outputs were presented in the shows 'A New Vision of Printmaking' and 'What Has to Be Done' in the college's Triangle Space and Cookhouse Gallery.
Whether guests had travelled thousands of miles to attend, or merely jumped on the tube on a damp, blustery night, all had a vivid memory of Chris and the deep impact he had made on each of them.
Tributes made by a number of colleagues and his wife, the artist Anne Lydiat Wainwright, made one thing very clear: Chris had made an impact on his peers, his fellow workers and everybody who continues to encounter his body of work.
Assembled guests were summoned to the Banqueting Suite by the ringing of a ship's bell made especially for the occasion by the artist Aaron McPeake, (Phd, Chelsea, 2012), who specialises in interactive sound sculpture.  Much of Chris's life and work had been spent on water, either on expeditions to the Arctic or at home on the MV Rock, a fully converted sea going Medway Coaster, moored at Hermitage Moorings, Tower Hill, where Chris lived with wife Anne.
Chaplain Mark Dean assumed the role of MC and invited a number of speakers to pay tribute to Chris.

A man of many parts…
Nigel Carrington, Vice Chancellor of UAL, welcomed guests to the college and University and led the way with a tribute to Chris's many talents and interests.
"Chris was a man of many parts with incredible energy and imagination so no-one here will be surprised that we had no shortage of material in planning how best to remember Chris and celebrate his life and many passions" – Nigel Carrington, Vice-Chancellor, UAL
Nigel spoke of Chris's three lives – the academic, the artistic and of course, his environmental activism. Chris had started teaching early in his career holding many teaching roles across a number of institutions, sometimes simultaneously.
For the latter 20 years of his academic career, Chris had been a University leader. His UAL career began in 1997 when he was appointed Dean of the School of Art at Central Saint Martins. This was followed 10 years later when he was made Head of Chelsea, Camberwell and Wimbledon.
Nigel praised Chris's contributions to this University, its staff and of course, the students.
"Through it all and despite the pressures and responsibilities Chris never lost his passion for teaching and working with students, spending many of his summers leading student projects and expeditions. Chris would also use creativity and his powerful vision to highlight the impact of climate disruption in ways which spoke to a much wider community than the narrow world of universities and the creative sector."
As well as the academic work and activism, Nigel described how Chris's reputation as an artist and photographer grew each year and how Chris's work is now in collections across the world including the V&A, the Arts Council Collection, Bibliotheque Nationale in Paris and Polaroid Corporation in Boston.  "For the 10 years in which I knew Chris, he not only continued to be an active artist but also to play a major role in curating exhibitions as tonight's celebrations will demonstrate.

"I think I need a suit now…"
Pro Vice-Chancellor of London College of Communication, UAL, Natalie Brett, spoke of Chris's childhood and how his early years spent on a farm in the peak district had instilled in him a deep love of nature and the outdoors which had informed much of work throughout his life. Natalie spoke of the immense support that Chris had been to her professionally and how his unwavering support had continued long after she had moved on to to take the Dean's role at Camberwell. She also expressed her gratitude for the friendship that had developed between them outside of work and how this had deepened after Chris had retired.
Carla Delfos, the founder of the European League of Institute of Art (ELIA) took to the podium to speak of Chris's longstanding relationship with the organisation. Chris had been Chair of ELIA for four years from 2006-2010 and Carla paid tribute to his passion, engagement and integrity. Carla, who had to travelled to London from the Netherlands for the event was joined by ELIA colleagues – 3 past presidents, 2 past vice presidents and many board members.
"I remember….we had finished a meeting in Brighton and Chris was just appointed as Head of Colleges and he said to me 'I think I need a suit now' and we entered the shop of Hugo Boss and I had to advise him in selecting a suit, he looked very smart in it. But Chris was Chris. I never saw him wearing it," – Carla Delfos, Founder of ELIA
After another sounding of the Aaron McPeake's bell and a minutes' silence, guests were then led to the first of two shows that had been mounted specially for the occasion. The first A New Vision of Printmaking which was being presented in the Triangle Space gallery, had been curated by Chris along with Professor Chu, Director of Kuandu Museum of Fine Arts in Taipei.
A delegation from Taipei, including Professor Chu, were in the gallery waiting to welcome the guests. Professor Chu echoed the previous speakers in his praise for Chris and his vision, but spoke of how the artistic community in Taipei had been shocked and deeply saddened to hear the news of Chris's premature death.
A New Vision of Printmaking had started its tour in Taipei and after Chelsea will move to its final iteration at Complutense University of Madrid later this year and Elena Blanch, Dean of the Faculty of Fine Arts, Complutence had also travelled from Madrid for the event.

'What Has to be Done'
For the final part of the evening guests assembled in the Cookhouse Gallery for exhibition 'What Has to be Done0' a show of Chris's work co-curated by Chris's wife Anne and Chelsea's Dr David Dibosa.  This powerful and deeply personal exhibition is Chris's creative response to the devastating effects of climate change on the natural world.
Here in the Cookhouse on this the final stage of our guests' evening, we heard from Anne, who spoke of her life with Chris and their last journey to the Arctic together.
After Introducing 'What Has to Be Done,' Anne thanked the guests who had made the effort to attend the evening and spoke of her gratitude of being able to be involved in designing the evening and curating the exhibition. Anne then introduced the ambient music group Zoviet France who played the evening out with soundscapes inspired the expeditions Chris had led to the Arctic.

"I'll go on…"
This post opened with a mention of just some of the tangible outputs of Professor Chris Wainwright But what about those intangible impressions?
We close this post with a quote that Chris had once used in a speech about 'famous last words'. Carla Delfos had recounted how Chris had chosen this quote from the 'The Unnameable' by Samuel Beckett when she had stepped down from ELIA. As Chris himself had chosen these lines, it might be fitting to use them here:
"Perhaps it's done already, perhaps they have said me already, perhaps they have carried me to the threshold of my story, before the door that opens on my story, that would surprise me, if it opens, it will be I, it will be the silence, where I am, I don't know, I'll never know, in the silence you don't know, you must go on, I can't go on, I'll go on"