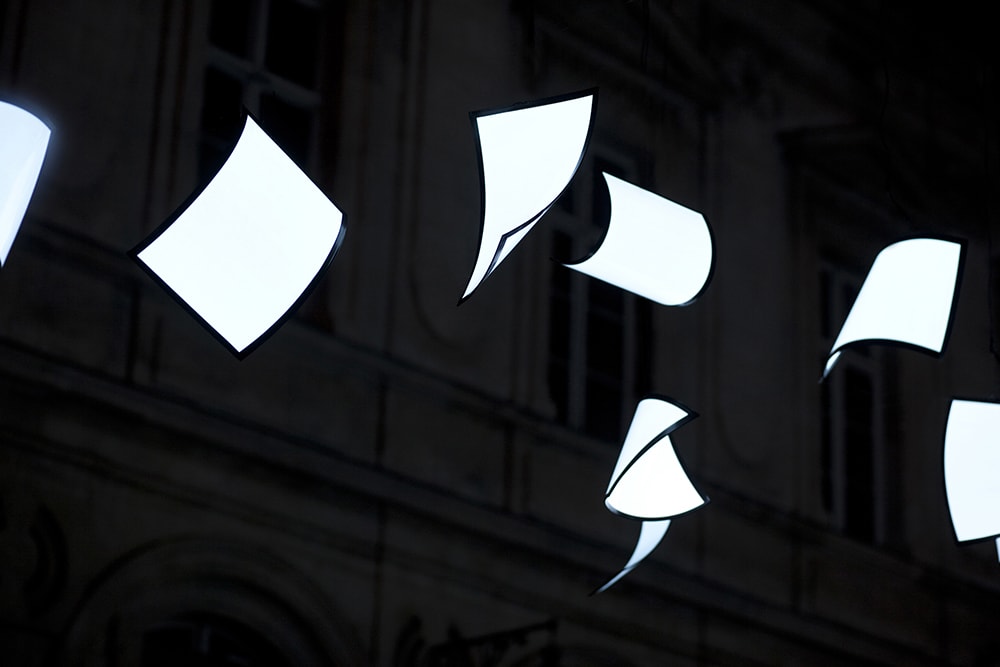 BA (Hons) Design for Branded Spaces is a new course at LCC that explores the relationship between people, spaces and design.  Technological advances have led to a change in the way designers think about and use space, with graduates needing to understand the relationship between physical and digital environments.
There are so many examples of imaginative and innovative installations in and around London so we caught up with Valerie Mace, Course Leader for BA (Hons) Design for Branded Spaces, to talk about her favourite examples of recent projects and installations from the capital and beyond. Valerie's work is situated within spatial, cultural and urban environments where she investigates synergies between spaces and people via sensory design.
I have selected a few projects that illustrate the relationship between spaces, technology and people's experiences and reflect the kind of work students may do on the course.
Last year Studio Xag created an installation for the launch of Liberty's limited edition collaboration with Nixon Watches. The product is framed by a series of circles reminiscent of a camera lens that incorporate the classic Liberty print and uses pulsating lights to frame the product, with a bright white light to make it appear to float. This approach integrates Liberty's iconic heritage with the high tech status of Nixon.
Using fibre optic lighting, Imagination created a branded space at the London Design Biennale for car manufacturer Jaguar. The light is used to great effect to map the contours of the with the space showcasing the brand's heritage, present and future.
Working with scenographic techniques, Studio Weave created a wonderful project called 'The House of Fairy Tales', providing visitors with a multi-sensory immersive experience of the fairytales of Hans Christian Andersen. It's a great example of creating an immersive space where sound and light are integrated into the narrative, enhancing the experience of the physical space.
We're also very interested in the use of innovative materials on the course, an example illustrated by Paul Cocksedge. The design uses electroluminescent material to create an installation that represents sheets of paper thrown into the air by a gust of wind, it's visible at night as the material glows in the dark. The installation lends a beautiful and elegant identity to a public space.
Collaboration opens up possibilities for a wider range of projects as with this interactive animated space by Dalziel and Pow, created for the Retail Design Expo. Using conductive ink and projection mapping layered over animations, Dalziel and Pow provided visitors with a distinctive and playful experience where people can interact with the walls. To achieve this on the course we would collaborate with students from our BA (Hons) Illustration and BA (Hons) Interaction Design Art courses at LCC.
Finally, I also really like a small scale project by architect Jason Payne and lighting/programming designer Jeff Burke who created an installation and placed it near a bus stop to create a new public experience. The installation used ambient informatics, a type of atmospheric computing that can communicate information without the traditional screen of symbols. In this instance, the light glows and pulsate to communicate new information about bus arrival.