Campaign to End Sexual Violence
Published date
26 Jun 2018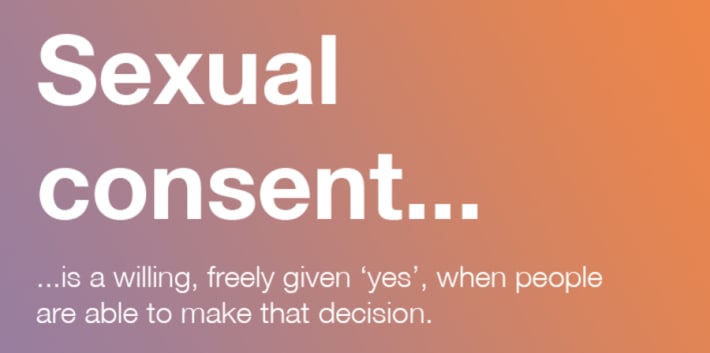 Sexual violence and harassment affects people from all backgrounds, across all sections of society. At UAL, we are committed to ensuring that all of our students feel safe and supported. The University and Students' Union are working together to prevent, challenge and end sexual violence.
Sexual consent
It is really important that you know your rights and responsibilities in relation to sexual consent. Our consent campaign aims to raise awareness of what consent means, and encourage students to be aware of times when a person may not be able to consent.
You can contact the Students' Union to take part in a consent workshop. For a quick introduction to consent, take a look at the disrespect nobody video.
Support for students
If you have experienced sexual violence, please remember: it's not your fault, you are not to blame and you deserve support. We recognise that it can be really difficult to talk about harassment or sexual violence, but we would encourage students to speak to someone and get support. Any student who contacts our support services will be listened to, believed and helped to make informed choices about what they might want to do next. Find out about the support available at UAL and through external agencies.
You can report harassment and sexual violence to the University through our Tell Someone service. You can speak confidentially to an adviser or report anonymously through the online form. If you choose to speak to an adviser, we will be led by you in terms of next steps.
Find out more
This film highlights the impact sexual harassment has on the lives of young women: I'd just like to be free by Imkaan and End Violence Against Women Coalition.
Our partner, Rape Crisis South London, has a series of films for young people who have experienced rape or sexual assault. They explain the support available through Rape Crisis, and what's involved if you choose to report to the police. Watch Break the silence.
Contact us
To find out more about the support available at UAL, email tellsomeone@arts.ac.uk or visit our support page.
To get involved in the campaign to end sexual violence, contact Katayoun Jalili, SU Welfare Officer on welfare.su@arts.ac.uk
Download the campaign posters