Footnotes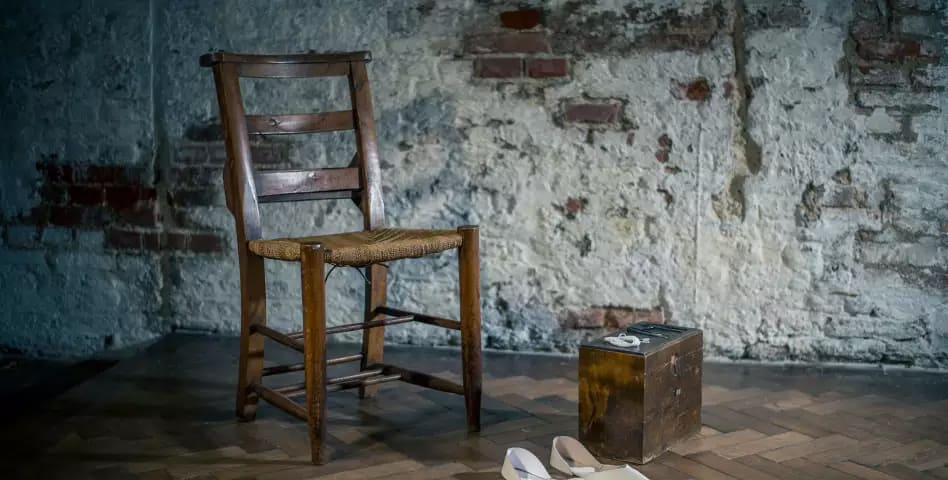 Footnotes, an exhibition curated by Alison Moloney, presents shoes from London College of Fashion, UAL's eclectic archive which includes 1930s orthopaedic footwear, silk slippers from the 1800s and even a shoe made for a sheep. Artists Linda Brothwell, Laila Diallo, Eelko Moorer and Ellen Sampson have produced work inspired by the selected shoes, revealing new interpretations of historic objects which form a trail through Sutton House, an historic east London property.
The unexpected alliance between artists and objects presents new interpretations of both the objects and contemporary life, stimulating conversations about how we edit and archive the past, and re-animate history.
The exhibition is supported using public funding by Arts Council England and sponsored by Kurt Geiger.
Wear It Out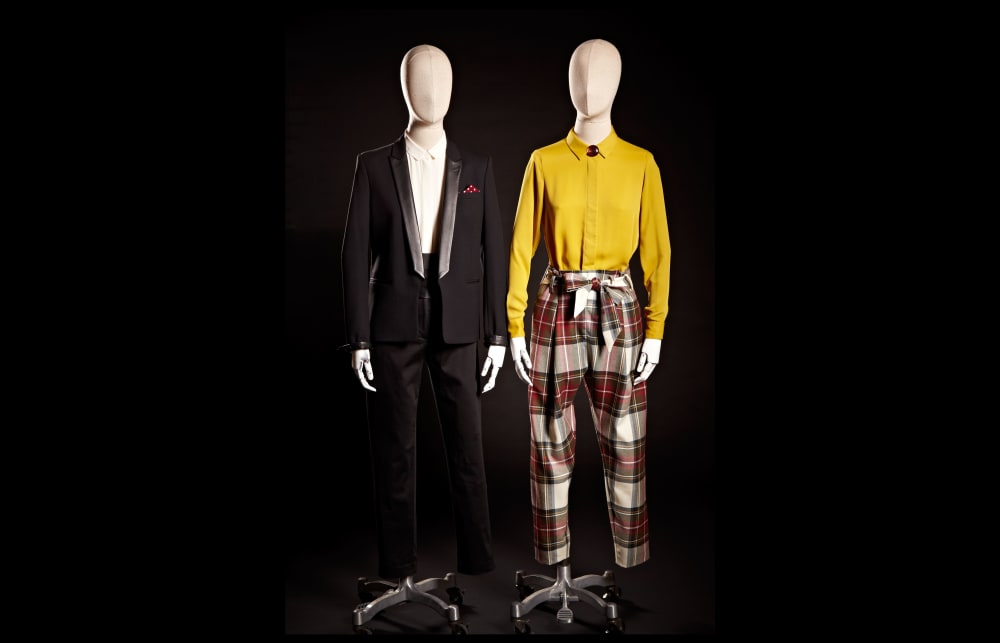 Wear it Out is an oral history and dress collecting project that showcases outfits representing LGBTQ fashion and style over the last 50 years. ⠀⠀⠀
CfFC have worked with Brighton Museum and a team of young volunteers in Sussex to collect oral history interviews with members of Brighton & Hove's LGBTQ communities talking about their clothing and what it means to them. Synoposes of the interviews can be found on the Queer Looks blog based on the themes of Brighton & Hove, Coming Out, LGBTQ Activism, Nightlife, and The Power of Clothing. The interviews, along with ensembles donated to museum, are displayed in an exhibition, 'Queer Looks' in Brighton Museum in 2018-19.
Wear it out is an HLF-funded project.
Visit the CfFC Fashion Curation blog for more information.
Gluck: Art and Identity
The exhibition, 'Gluck: Art and Identity' is based on the life of Sussex-based artist, Gluck (Hannah Gluckstein, 1895 – 1978). Focused on the artist's biography, garments, ephemera and artworks which have been donated to Brighton Royal Pavilion and Museums but not exhibited until now, Gluck defied convention by wearing masculine-style tailored clothing to construct and articulate powerful self-identities. The exhibition is part of a wider project 'Wear it Out' that explores the cultural heritage of dress of LGBTQI+ communities in Sussex (1917 – 2017) looking at how dress is used to express identities and sexualities of individuals who identify as LGBTQI+.
The Vulgar: Fashion Redefined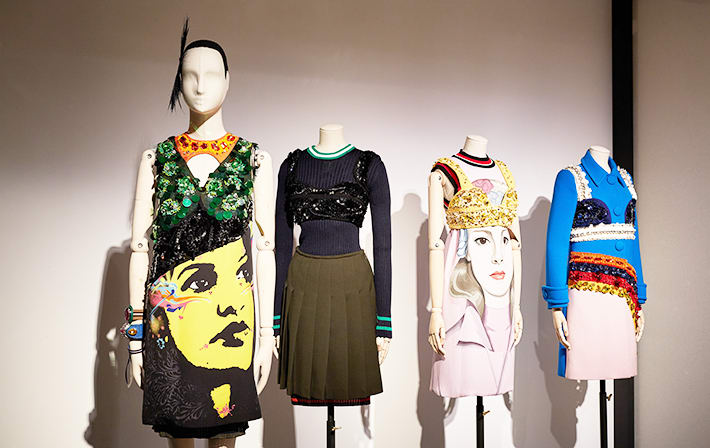 'The Vulgar: Fashion Redefined' curated by Professor Judith Clark for the Barbican Art Gallery is the first exhibition to challenge and reconsider this important area of taste. This provocative exhibition - organised around 11 new definitions of the word 'vulgar' written by psychoanalyst Adam Phillips - combines historic garments, haute couture and ready-to-wear fashion, questioning both the understanding and uses of vulgarity in fashion whilst enjoying its exuberance.
The project is part of Clark's ongoing research into the history of fashion exhibitions. It also acts as a reflection on fashion curation itself and notions of its 'vulgar' allegiance to consumer culture.
CfFC, with the Barbican, coordinated the installation of the exhibition, organising for volunteer UAL students (from Year 1 and 2 of MA Fashion Curation) as well as recent graduates to work alongside professional Costume Mounter gaining essential experience of exhibition installation.
Judith Clark: "The tableaux don't illustrate the text and the text doesn't illustrate the fashion, but they run alongside each other to say something about the themes that recur around ideas of the vulgar: about the copy (whether it is an impoverished version of an original); about ideas of excess, about displayed ambition, about the vernacular, etc to name a few.
From March - June 2017 the exhibition toured to the Winterpalais, Belvedere Museum, Vienna.
"Cabinet Stories is about taking exhibitions directly to the audience"
In collaboration with the Social Responsibility team at LCF, Curator Alison Moloney devised and produced Cabinet Stories – a travelling exhibition for audiences who have little access to the arts. The cabinet became a 'venue' where 7 displays, curated by UAL and external curators, were presented one after the other. Cabinet Stories travelled to HMP Holloway, East London NHS Foundation Trust and Anchor Silk Court – a home for older people. At each venue the curator led a talk or workshop based on their cabinet exhibition. Cabinet Stories opened to the wider public in an Emmaus charity shop in Poplar, East London, where all 7 exhibitions were displayed at the same time alongside free workshops for the local community.
Alison Moloney is a nomadic curator whose exhibitions have a strong emphasis on widening participation. Plans are now underway to take this travelling cabinet internationally.
Find out more about Cabinet Stories
Cabinet Stories Research Outputs
Find out more about Better Lives at LCF
Learn more about Alison Moloney's International Exhibition programme
1. Disorderly apparel reconfigured
2. A playful project that tests the principal elements of exhibiting fashion: object, body, text, installation. A conversation between exhibition-maker Jeffrey Horsley and curator Amy de la Haye inspired by apparel which is damaged, worn-out or perished.
The items exhibited in Present Imperfect include: a pair of Victorian kid leather gloves, charred and forever distorted in an incarnate grip; a cotton ballet singlet, borrowed from the Rambert Archive, lifeless, and stained by repetitive movement; a Stone Island jacket with shattered linings that echoes the distressed insert of a London couturier-designed Edwardian tea gown dating from a 100 years earlier. Museum stores often ignored or abandon such objects, this exhibition celebrates them.
The exhibition acts as both gallery and studio space, exploring the multiple choices, working processes and ideas that were researched, adopted or shelved. The experimentation and innovation of Present Imperfect are at the heart of the Centre for Fashion Curation's ethos.
Present Imperfect is at Fashion Space Gallery from 12 May - 4 August 2017
Find out more about Present Imperfect
Read the Fashion Studies Journal article