Typographic Research Unit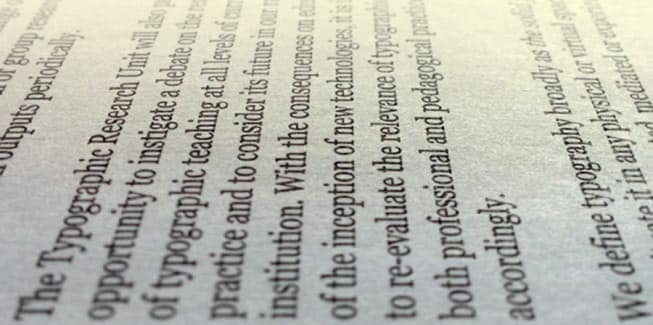 The TRU group is based within the Design School at London College of Communication and is open to all UAL staff and students with an interest in those physical or virtual spaces where visible language is originated, mediated or experienced.
Objectives
This research hub has three closely related objectives.
Firstly, it seeks to facilitate a Community of Practice comprising UAL staff, students and researchers working within the fields of type and typography, operating as a forum for exchange of ideas about the development of individual and group research activities.
Secondly, it aims to provide an environment for discussing the positioning and purposes of typographic teaching at all levels of current pedagogical practice and considering its future in our rapidly changing institution. With the rapid inception of new technologies, it recognises the increasing urgency of re-evaluating the relevance of typography and of re-situating its academic curricula accordingly.
Thirdly, the TRU aims to support research activities exploring, examining and making appropriate uses of the extensive and auspicious historical record of typographic teaching and practice at the London College of Printing in relation to the development of British design culture throughout the 20th Century and today.