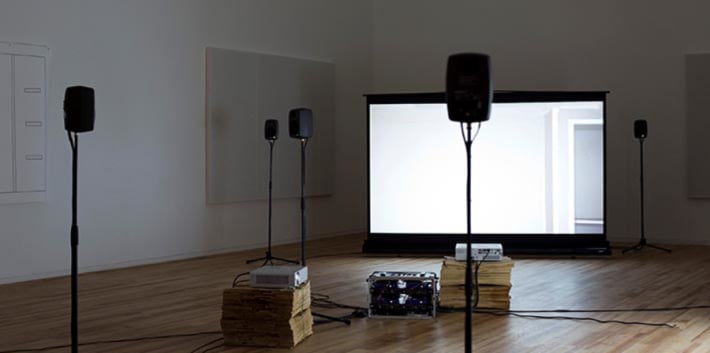 The artists, writers and curators in this group are concerned with the theoretical and historical study of artists' moving image, through their practice.
Artists' Moving Image has been a strength and a defining characteristic of Fine Art at Central Saint Martins for many years. Its courses, staff and graduates have played, and continue to play, an important part in the field - historically, and in an evolving contemporary practice. This group aims to act as a focal point for the diverse activity in film and video currently pursued by the artists, curators and writers teaching across the Art Programme.
Alongside that individual practice the British Artists' Film and Video Study Collection, and the MRes Art: Moving Image course founded with LUX provide an unprecedented context for developing the expanded field of moving image research within contemporary art.
The group is not based upon any orthodoxy and doesn't strive to construct false commonalities or unifying themes. Instead it aims to articulate and explore ideas and issues recognised through differences in approach while still implicated in what can be understood as specific to the moving image.
Group members
Emeritus Professor Anne Tallentire | Steven Ball | Mario Rossi | Hannah Rickards | Professor Mark Lewis | John Seth | James Swinson | Erika Tan | Susan Trangmar | Dr Duncan White
Activities and outputs
Susan Trangmar marks anniversary of Battle of Somme in film, 2016
Graham Ellard and Stephen Johnstone, screening at Guggenheim Museum, NY, 2016
Screening: 'For an Open Campus', March 2015
Symposium: Now That's What I Call Pluralism!, March 2015
Mark Lewis talk, March 2015
Hannah Rickards: Panel discussion in response to Screening of Michael Snow's La Région Centrale, 2014
Duncan White, curator's talk (video), Nottingham Contemporary, 2014
CSM News - Erika Tan: Sensing Obscurity (I, II, III)
UAL event - The City and its Moving Images: Hypertopia by Francesco Casetti, 2013
CSM News -Emily Wardill: Full firearms
Afterall Film Club: Victor Burgin, May 2013
Related links and resources