Your creative future starts here: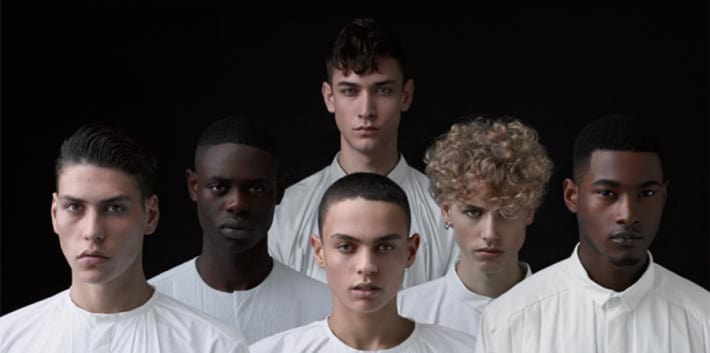 The Masculinities Research Hub convenes practitioners and theorists interested in all aspects of menswear and masculinities.
About this group
This cross-disciplinary hub fosters the exploration of the multiple meanings and forms of contemporary and historic masculinities. The plural 'masculinities' is used to reflect the increasingly broad definition of various social and cultural groups.
Formerly subsumed into gender studies and queer theory, this visionary hub forefronts the germane subject of masculinities through theory and practice. Areas of interest will include the media, imagery, business, production, consumption, representation, design, history, health, fitness and sport, music and performance, grooming, age, race, gender, and sexuality, as well as the body and dressed appearance.
LCF has a long tradition of engaging with menswear and masculinity and the hub will explore the future of what masculinities might look like and be perceived as being in a broad range of cultural contexts. It will be a forum for multiple perspectives from makers, scholars and commentators and aims to cultivate lively dialogue and develop novel research outputs, through round table discussions, themed symposia, workshops, and presentations.
UAL staff, students and colleagues external to the University, are welcome to join associated activities relevant to the hub's aims and objectives.
Call for Papers
Globalising Men's Style
Papers, presentations, and in-conversation discussions are welcomed for the Globalising Men's Style conference to be held on Friday 26 June 2020, with an evening reception on Thursday 25 June 2020 at London College of Fashion – 20 John Prince's St, London W1G 0BJ.
Tom Adams: Course Leader, BA (Hons) FDT: Menswear
Charlie Athill: Lecturer, International Collaborative Provision (CHS)
Darren Cabon: Course Leader, MA FDT Menswear
Pamela Church Gibson: Reader, Cultural and Historical Studies
Anja Cronberg: Senior Research Fellow, Theory & Practice in Fashion
Serkan Delice: Lecturer, Cultural and Historical Studies
Itai Doron: Programme Director, Fashion Media
Jeff Horsley: Post-doctoral Research Fellow, Centre for Fashion Curation
Michiel Meewis: Lecturer, Fashion Photography
Ligaya Salazar: Director of Fashion Space Gallery
Sina Shamsavari: Lecturer, Cultural and Historical Studies
Dr Tony Sullivan: Senior Lecturer, Cultural and Historical Studies
Professor Claire Wilcox: Professor of Fashion Curation
Research students
Tim Arrowsmith: A biography of black leather and motorcycle practice in post-War British subculture
Liza Betts: The intricacy of the ordinary and the complexity of the everyday; their translation into screen costume
Lorraine Henry: Good Guys in Black; Costume & Ethnicity in Hollywood Films
Ioanna Karagiorgou: Masculinities and male blogging: creation and representation of masculinities through male fashion and lifestyle blogs
Angela King: 'Fashioning the male boxing body', an investigation into ringside boxing dress as embodied working-class masculinity and material culture
Mario Roman: Styling Blokes and Bros; Representations of Fashion, Masculinities and the Nation in Contemporary Photo-spreads of American and British GQ Magazines
Cassandra Schreiber: Dressed in myth - costumes and masculinities in adaptations and re-workings
Related links and resources