Published date
25 Jul 2018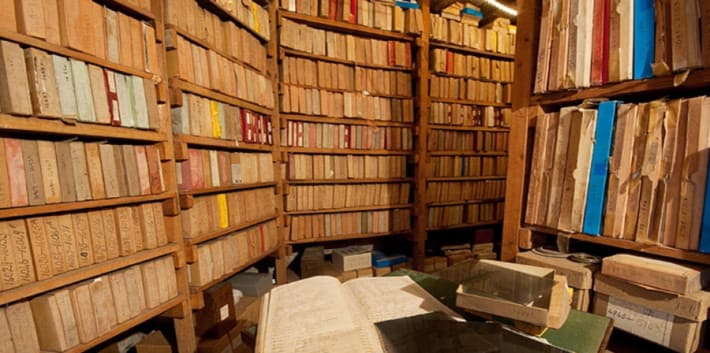 The Edward Reeves Archive, investigating and preserving the world's oldest photographic studio and archive.
Principal Investigator: Brigitte Lardinois
College: London College of Communication
In 1855, Edward Reeves opened a photographic studio in Lewes, East Sussex. The studio has remained a family business and is now run by Edward's great-grandson, Tom Reeves, and his wife Tania Osband. It has been in the same High Street premises since 1858.
The studio is unique in being arguably the world's oldest surviving and continuously operating photographic studio. Remarkably, almost everything to do with the studio has been retained by the family.
The Edward Reeves Archive covers the period of the first 3 generations of the business from 1855 to 1974. It contains over 150,000 glass plates, 30,000 film negatives, original furniture and props. The photographs show the residents of an English market town and its surroundings having their portrait taken, at work, during leisure hours and at public events. Also preserved is the relating business paperwork: negative books, account books, correspondence, and ephemera. It is possible to identify the date, location and the sitters of almost every image. No other historic photographic archive is known to contain this level of detail.
Brigitte Lardinois, Senior Research Fellow in Photography at the London College of Communication, has been spearheading the project to raise awareness of the archive and preserve it as a research resource. She has been working with the Reeves family and local volunteers to run exhibitions in Lewes and start the work of transcribing the business paperwork. The intention is to secure the long-term future of the archive and make its images available online to researchers.
Key participants: Brigitte Lardinois, Research Project Leader and Curator
Outputs
Outputs realised from the research project
Discovering the Story of the Reeves Archive in Sussex:
Lardinois, Brigitte (2014) Discovering the Story of the Reeves Archive in Sussex. In: Beyond the View: (New) Perspectives on Seaside Photography, 10-11 July 2014, Southeast Archive of Seaside Photography, Canterbury Christ Church University.