Published date
03 Jun 2019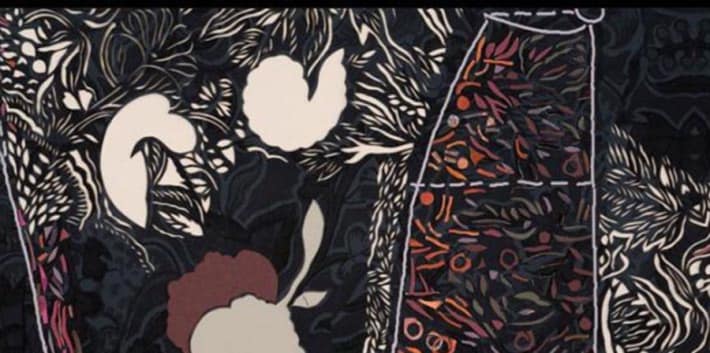 A collaborative investigation into the role of the hand craft and digital processes within creative practice.
Principal Investigator: Professor Charlotte Hodes
College: London College of Fashion
Project summary
Drawing Skirts was a collaboration between Professor Charlotte Hodes and Doctor Cathy Treadaway, Reader at Cardiff School of Art and Design, University of Wales Institute and Visiting Research Fellow in Computer Science at University of Bath.The project focused on the making of a series of new artworks by Hodes, from preliminary drawings through to completion. Hodes' artwork - papercuts - drew on early twentieth century pattern books containing linear diagrams of flat skirt shapes held in the archive library at LCF. The creative was observed at crucial stages through a video recording made by Treadaway, supported by digital photos and research journals. The completed artworks evidencing the research, were exhibited alongside the video recording at the Baring Wing, University Gallery, University of Northumbria in April 2008.
The exhibition was accompanied by a publication to include photographic documentation of the artworks as well as essays by both artist and researcher, which address the findings that emerged from the analysis of the data. Cathy Treadaway's current research interests centre specifically on creative digital processes that involve hand use and craft. Her role within the project was to document work in progress, provide analysis of data within a broad context and to facilitate a dialogue between researcher and artist in order to aid reflection on the practice as it occurs. The research investigated how 'making by hand' informs concept development and the selection of novel ideas within creative digital practice. The artworks made for this research take the form of collages, papercuts, which combine hand and digital drawing, digital collage i.e. 'cut' and 'paste' as well as 'hands on' traditional collage in the studio.
This investigation seeks to illuminate how both hand and digital craft processes inform creative cognition.This project crossed boundaries between fine art and craft making, human computer interaction and psychology. It sought to reveal the human issues at the heart of creative practice using digital technology and used the research method of 'studio as laboratory' in order to record and analyse the live creative process. Treadaway's doctoral research in 2006 used case study as a key instrument to investigate the use of digital tools in creative practice. The video documentation and analysis of Hodes' studio practice will provide the opportunity for reflection and interrogation of the creative process. The analysis of data was used to gain new knowledge about the physical and cognitive processes involved. The findings that emerged will inform research papers for publication and conference paper presentations.
Outputs
Outputs realised from the research project