Published date
04 Jun 2019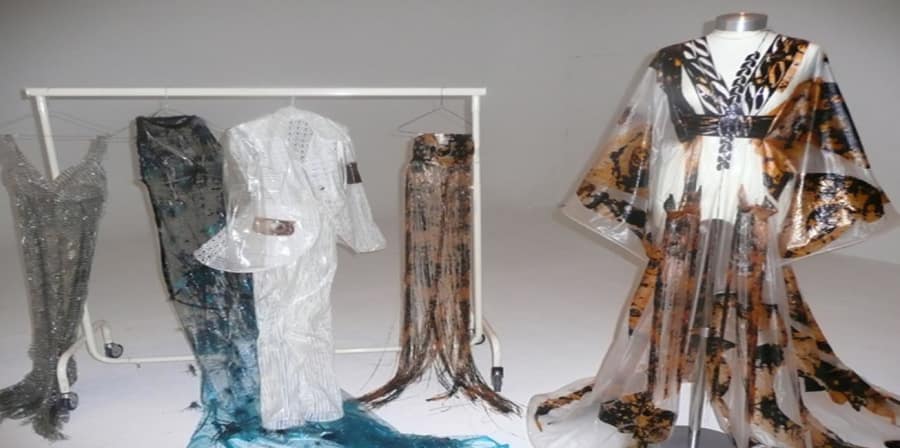 Over the past three years Professor Helen Storey and scientist Professor Tony Ryan from The University of Sheffield have worked together to create real solutions for a more sustainable world.
Project summary
Wonderland was shortlisted for the Conde Nast Traveller Innovation & Design Awards 2010, in the Sustainability category.
Professors Storey and Ryan first investigated the possibilities behind packaging that would 'know when it was empty and disappear'. Realising the potential impact of their thinking and collaborative work they embarked on Wonderland, a project that brings together the worlds of art and science. Wonderland asks its audience to consider waste, plastics and packaging in new ways and prompts disciplines and industry to work together to find new solutions.
Using fashion to spearhead the project and working with textile designer Trish Belford from Interface at University of Ulster, the team developed, designed and produced a series of Disappearing Dresses to create a visually arresting metaphor for the central themes of the project.
Wonderland opened as an exhibition at the London College of Fashion in January 2008. It toured to Sheffield where it appeared at four different sites across the city and continued to Ormeau Baths Gallery Belfast (8 October - 8 November 2008).
Disappearing Dresses
The dresses, made from textiles that dissolve in water are hung from scaffolds and gradually lowered into giant goldfish bowls of water. Each dress behaves differently as it enters the water. The dissolving material creates vibrant underwater fireworks that are magnified by the giant bowls. The dresses question the environmental sustainability of our current fashion industry and what happens to used clothing.
The focus of their original work together, the dissolving bottles, is an exploration of intelligent packaging. Once finished with, the bottles dissolve under hot water to form a gel in which seeds can be grown. The concept could revolutionise the packaging industry and aims to highlight issues surrounding waste plastic.
Awarded a grant from the EPSRC, sponsored by Sainsbury's and supported by Arts Council England, Arts Council Northern Ireland and Arts and Business this dynamic exhibition has been seen by 2.6 million people to date. A work perhaps vulnerable to cynicism, it demands and suggests intelligent change through brave collaboration and experiment.
Helen Storey/Wonderland recently featured as a Design Hero at 100% Design and has been invited to show at The Earth Awards, New York in December 2008.
Outputs
Outputs realised from the research project