Millie van der Byl Williams
Published date
23 Jan 2020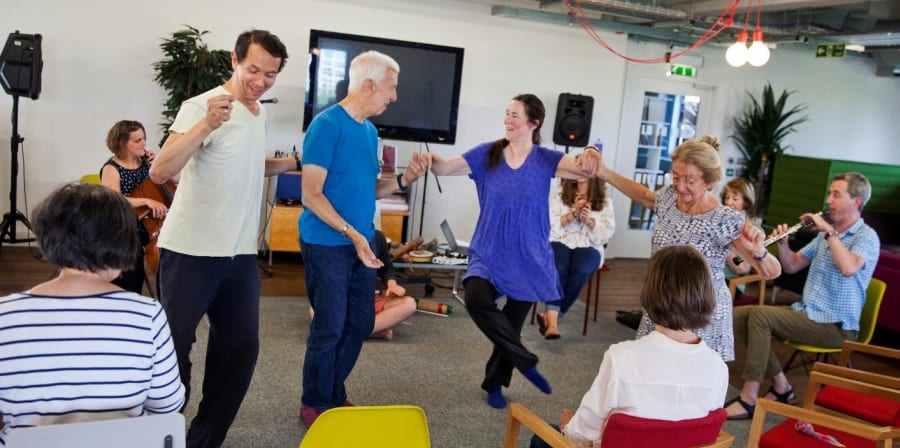 Understanding Agency and the Effect of Co-Creativity in Dementia Care
College: London College of Fashion
Supervisors: Dr Hannah Zeilig, Prof Seb Crutch (UCL)
Director of studies: Professor Graeme Evans
Introduction
Dementia affects an estimated 850,000 people in the UK. Whilst a cure for dementia is a distant goal, there is a need for research into how we can improve lives of people living with dementia now. Therefore my research will follow 'Creative Encounters' - a co-creative arts programme run by Spitalfields Music in dementia care homes in East London. My research will explore the effect of co-creative arts on agency. Agency is about how we express ourselves through our own actions. This thesis aims to develop a more inclusive concept of agency rooted in empirical research and influenced by the reflections of people who live and work with dementia.
Context and background
My research will be trans-disciplinary and my background is in health humanities and philosophy. Alongside the multidisciplinary research team, this project will explore the complex concepts of agency and co-creativity from a number of disciplinary standpoints. My research will be trans disciplinary as it will also include the reflections from people living with and alongside dementia.
Agency
Why is our concept of agency important? Most of the time we assume an individual is an agent: that their actions are for the most part intentional, that they have a sense of control over their actions. However, in cases of dementia people often assume that the person is no longer capable of meaningful action. This assumption has wide reaching consequences for the political status of the individual and consequently their person-hood.
Research into agency and dementia has not included significant input from people with dementia and carers. If we are to understand what agency means in dementia then we must consult and include the perspectives of people living with and alongside dementia. The resulting understanding of agency has to be something that people relate to and can use in practice, not just a theoretical exploration.
Co-creativity
Co-creativity offers a unique environment in which to explore the agency of people with dementia. Co-creativity aims for an equal power balance between artists, care home staff and people with dementia – a situation that is rare in the day to day lives of people living in residential care.
The value of approaching this research into agency and dementia through the lens of the co-creative arts is summarised by Julian Hughes:
"Art is a way of seeing that goes beyond the ordinary seeing of everyday life", "encourages a broad view of the person with dementia"
(Hughes, 2014, pp. 202-203)
Whereas there has been an initial study exploring co-creativity and dementia (Zeilig, Tischler, van der Byl Williams et al., 2019) this study was limited to working with people with capacity to give informed consent who were still living in the community. This new project aims to work with more people over a longer period of time and also include people living in residential care and individuals who do not have capacity to give informed consent.
Aims and objectives
This research aims to explore effect of co-creative arts on agency in dementia care, and extend our understanding of this concept through asking the following questions:
What is the effect of co-creative arts sessions on the agency of residents with dementia in care homes?
How is the concept of agency understood in relation to dementia care?
This research will also contribute and work towards:
Involving people with dementia more centrally in qualitative research
Developing an inclusive and practical definition of agency in dementia care
Understanding the effect of co-creative arts in the agency of people with dementia
Capturing the reflections and understanding of agency from people living with and alongside dementia
Outputs
Zeilig, H., Tischler, V., van der Byl Williams, M., West., J., Strohmaier, S., (2019) 'Co-creativity, well-being and agency: A case study analysis of a co-creative arts group for people with dementia', Journal of Aging Studies , 49, pp. 16–24.
Can music movement help people with dementia?- CrowdScience, (2018) BBC World Service, 24 May
External websites