What are Graded Awards?
UAL Awarding Body Graded Awards will support you to develop technical and creative skills in a range of creative subjects – from drawing, to animation, to pattern cutting.
These focused awards offer a framework for creating your own practical work to a set of criteria. They will help you develop skills at your own pace and can be taken up by individuals or be used in educational settings as a structure for larger groups.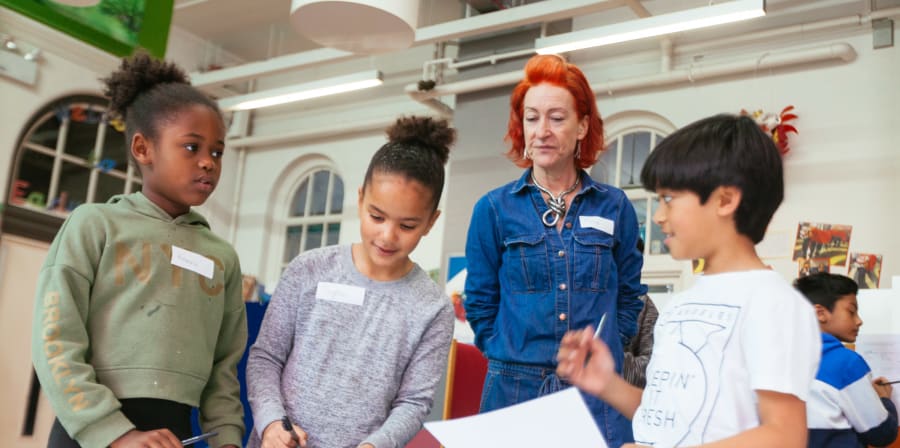 Who can do a Graded Award?
Our first awards have been designed for anyone aged 7 – 17 who has an interest in Art and Design, but they will also be of interest to adults interested in developing or refreshing creative skills. You might be a budding artist or illustrator wanting to try something out, or you might be looking to develop and get recognition for skills you already use.
Candidates do not have to be part of an institution to take the award, they can practice in their own space, away from the pressures of a formal exam. Grades can be taken as many times as the candidate wishes until they reach the standard they want to achieve.
How are they structured?
Learners are able to progress through six levels of achievement within each subject, which offers the individual the opportunity to:
discover the enjoyment of developing creative work through a variety of creative mediums such as drawing, animation, pattern cutting
practice and refine existing technical and/or creative skills
respond to a creatively stimulating brief
receive recognition from one of the leading Higher Education Institutions in the UK
These flexible awards are an informal and fun way to develop and gain recognition for skills. Upon completion of each grade, candidates will have met a standard of achievement for their technical and creative skills. These awards are not regulated and do not attract funding or UCAS points but, they have been designed with robust standards in mind that would broadly compare to:
Grade 1 – RFQ Entry level 3
Grade 2 – RFQ Level 1
Grade 3 – RFQ Level 1
Grade 4 – RFQ Level 2
Grade 5 – RFQ Level 2
Grade 6 – RFQ Level 3
The work produced may also be used to form a portfolio of work and support entry to Further or Higher Educational courses, or for (self) employment opportunities.