Teaching and learning strategies: using digital platforms in music and performing arts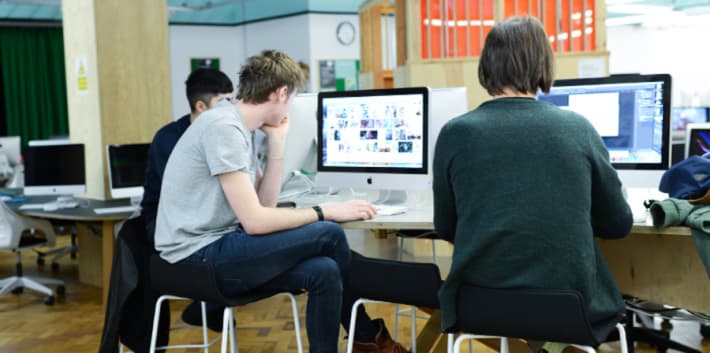 This course will introduce music and performing arts tutors to the array of digital platforms available to them, and the opportunities presented by using them for teaching and learning purposes.
Through presentations, exercises, discussions and use of online resources, you will be introduced to a range of strategies and techniques that will help to support students in developing their digital portfolios. By exploring the use of new technologies, the day will focus on evaluating current strategies and new opportunities of digital awareness from a students' perspectives.
Learning outcomes
Insight into the different digital approaches available to both students and tutors
Development of an online resource to manage the curriculum in a more effective way
Knowledge of how to use digital platforms for assessment purposes
Understanding of the different online applications, enabling confident use of online resources back in the classroom.
Who should attend?
Ideal for those who deliver music and performing arts qualifications at levels 1-3 including:
GCSE
AS Level
A Level
UAL Awarding Body
BTEC.
The course is suitable for those who are new to teaching performing arts subjects, as well as more experienced tutors who are looking to develop and further their use of digital technology in the classroom. All levels of expertise and specialism are welcome.
About the facilitators
Find out about Nigel and Erica, two of our excellent facilitators.
Nigel Hooper
In addition to being a Senior External Moderator for UAL Awarding Body, Nigel is currently Course Director for Music at West Suffolk College, where he teaches both levels 2 and 3.
He is also a professional musician who has worked in theatres and venues around the world.
Erica Dupuy
A professional actress, writer and director, Erica has worked with touring improvisation groups and performs as a stand-up comedian. Alongside this, she has worked in web development and new technologies.
Erica is the current course director for West Suffolk College's Level 2 Performing and Production Arts course, where she also teaches acting to Level 3 students.
Booking
There are currently no dates available for this course. Please email ual.cpd@arts.ac.uk to register your interest for future dates.
Need an invoice?
Please email ual.cpd@arts.ac.uk