Exhibition practices: presenting student work in a professional setting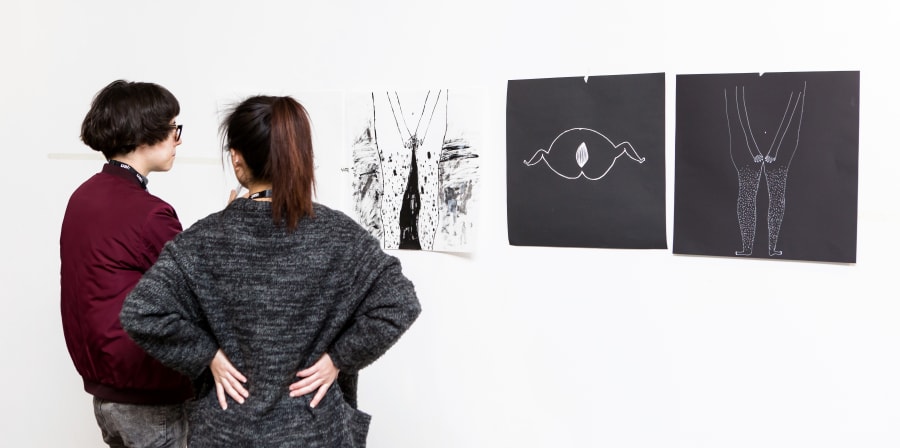 As part of this training event you will explore the space of the Saatchi Gallery, paying particular attention to the curation of the work.
Participants will then create their own piece of work inspired by the current exhibition and plan where to exhibit it within the space of the gallery. Participants must consider a theme, as well as space/ form/ composition. This activity is both about creating work independently and working collaboratively with others, when installing.
This exercise is useful for both linking the work in the gallery back to the students own studies and also for developing their presentation skills. Exhibition practices will be ongoing and a part of most academic art courses from FE through to HE. Visiting galleries is an excellent starting point when considering the presentation of work. This event will equip you with the tools to help encourage students to independently engage with cultural sites when developing their work and the presentation of it.
Learning outcomes
Understanding of how to improve your students' presentation skills
Insight into how to link gallery visits with the curriculum needs of your students
Understanding the value of exhibition practices and how it enhances student work and grades
Knowledge of the assessment criteria and inspiring delivery strategies to help your students to meet them
Approaches for encouraging independent research skills by linking work in galleries to student outcomes
Who should attend?
This course has been developed exclusively for those delivering are and design qualifications at levels 2-4. All levels of expertise and specialism are welcome.
Booking
There are currently no dates available for this course. Please email ual.cpd@arts.ac.uk to register your interest for future dates.
---
About the facilitators
Nadine Wright
With a Masters in Fine Art and a PGCE in Post-Compulsory Education, Nadine Wright has several years of teaching experience at FE level. She has worked as a lecturer, tutor, and course leader, teaching across general art and design from levels 1-4.
She is currently Head of Education at the Saatchi Gallery, where she leads the Schools Programme for primary through to adult learning, as well as several Outreach initiatives.
Sarah Atkinson
With an MA, BA hons and a PGCE, Sarah Atkinson is Head of Academic Standards for the University for the Arts London Awarding Body and oversees the team of Chief Examiners and external moderators. She has over twenty-five years experience working in further and higher education, and has designed and delivered a range of courses, most recently at London College of Fashion where she was Director of Programmes for FE courses and part of the LCF team working internationally to establish collaborative partnerships with educational institutions worldwide.
Before entering the teaching profession, Sarah worked as a freelance designer and ran her own manufacturing and retail company. Since becoming a full-time academic she has focused on research into learning, teaching and assessment and how to improve the student experience. Sarah maintains her own creative practice, including exhibiting work annually in the international women's exhibition in Seoul, South Korea.