Third year student Dominic takes us into the world of fashion menswear through his love of dance and performance art, and shows that it's possible to do both.
About me
Tell us about yourself.
My name is Dominic but I like to say my full name because it's quite fun and interesting – it's 31 letters! So, it's Dominic-Afsheen Akhavan-Moossavi and I'm from North London. I do Fashion Design Menswear at Central Saint Martins (CSM).
My style is fun, noticeable and print-based. But usually, my entire work is performance based. So, I'll think of the performance; I'll think of a dance, the lighting, the set, the stage – what people are going to see visually. I think of that first and the fashion comes second, but is influenced by that. I want people to walk away feeling as though they've seen more than models walking up and down a catwalk.
Did you know right away what type of designer you wanted to be?
From the age of five I've danced, so all the way up to Year 10, I was totally interested in musical theatre or going into contemporary dance. But then, I remember on the second day of sixth form I was more concerned about what I was wearing than what I was actually going to study. I began to question then if I should consider studying fashion. So, my entire life has been devoted to the Arts, it's never been academic, but that's fine!
I've always liked designing for myself – that's why I didn't have any desire to study Womenswear. Plus, Menswear is a small course, not many people study it. So, there are still so many possibilities to be created in men's clothing in a way that has already been explored in womenswear.
My Work
How would you describe Menswear to a friend?
I design fashion for men; the course [at CSM] is designed for 95% of the men that actually buy fashion, but you can still design for that 5% that do wear crazy fashion that are show pieces and for the catwalk. For the most part though, menswear is about understanding what the typical man wears although, you do have room to make more of the crazier stuff if you're able to.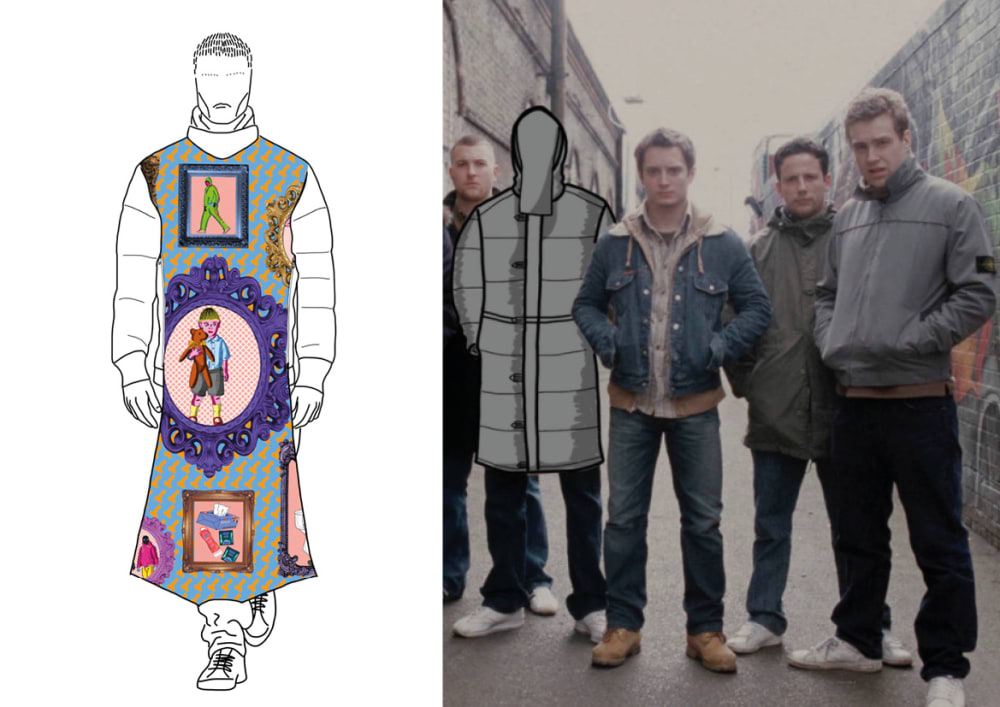 What do you think makes you a good designer?
Someone who takes risks, is open to new ideas but also brings something new to their area. For example, for me with fashion, I bring this theatre and dance element.
A good artist wants to provoke people.
—
What have you achieved from studying Menswear so far?
First of all, confidence but also networking and knowledge.
In the first two years of studying, Stone Island came to uni and set us a project to come up with one look for their collection. The founder was telling us that he didn't like the violent association with the brand due to a 'hooligan' culture that bought into the brand – which was ironic because their reference sources come from military and police, so it kind of does link there in a weird way.
This was my first project taking a more art approach instead of going the classic menswear route. I looked at the hyper-masculine associations with Stone Island and thought, 'I am going to reclaim his brand by playing on hyper-femininity.' I end up making a long Stone Island design puffer jacket that unzipped to reveal a skirt. I created a print that was very masculine-based; smoking, weed and weight-lifting but the idea of a skirt suggests that at heart, they're actually little boys.
The feedback was that the founder of Stone Island really liked it because I reinterpreted his brand and told a great story.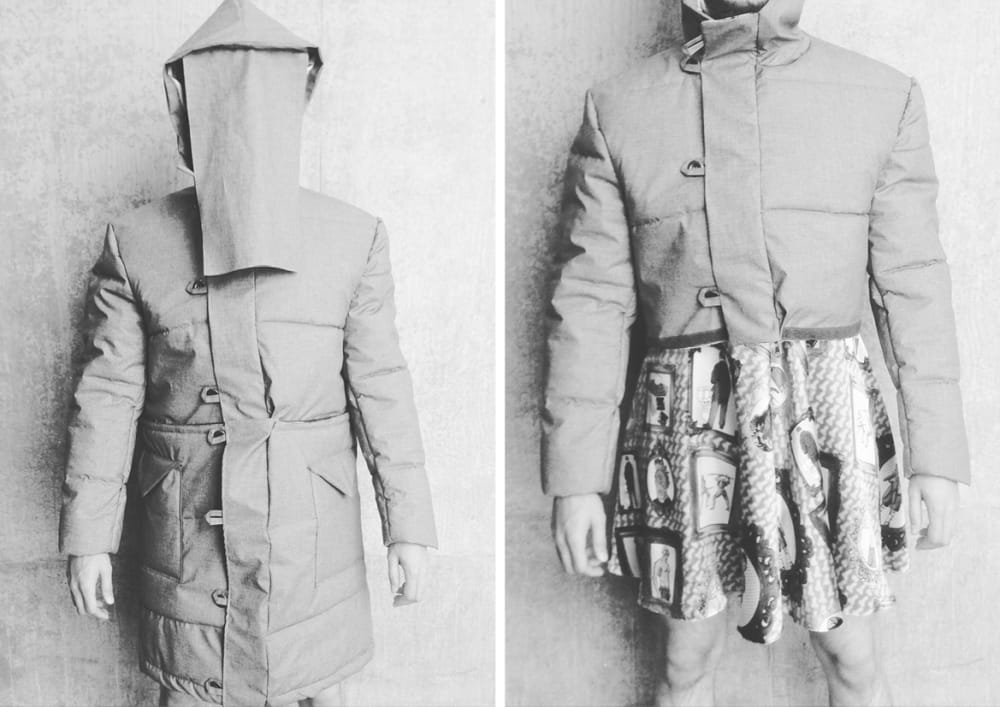 Any top tips?
Really understand what menswear is and what kind of man you want to design for. As a fashion student, I think it's important to come from a different discipline. You can bring all these other mixtures into it, all these ideas that can help change the fashion world.
What's next?
For my final collection, I have a Leigh Bowery inspired idea surrounding men giving birth. It would be a whole story that becomes immersive theatre. If the show is going to make someone think about something in a different way, then I've done what I was meant to do. That's what I get excited by!
Advisory warning: Work contains some adult themes.