In Chou's own words- "This mask is made from 2 water bottles. I added the bottle cap for the vent vibe. "
Masks are becoming a feature of daily life and there are lots of ways you can make practical ones for friends and family; it's a great way to help, if you have time and fabric.
But seriousness aside, let's have some fun with masks. Let's get creative with the idea of covering our face!
What materials do I need?
Items you have around the house: any fabrics, recyclables or objects
Paper and something to draw with
Phone or camera to record your work
You may need someone else in your house to be your 'model'.
How long will I need to complete the challenge?
Part 1: 15 minutes.
Part 2: 1-3hrs depending on how detailed you want to go
Work Safely
As you'll be covering the face, make sure the materials you use are clean and made of breathable fabric.
Part 1: Experiment – Make things fast
Designers often work quickly to generate new ideas. Restricting the time and materials used or setting guidelines can help with this.
Your first challenge is to make a 15-minute mask.
Remember, you can only use the materials you have in the house; here are some more design guidelines:
Forget the normal shape of a 'mask'- this is about covering and attaching to the face – providing a barrier or protection for example.
You can wear it yourself or enlist the help of someone in your house.
It must stay on the face without holding it.
Set yourself a timer and have fun. If you have several ideas you can make more than one.
After completing, document the results – take photos or selfies and style your masks.
Experiment with:
The silhouette shape you are making and the mood you are creating – is it fun or a bit unsettling?
Your camera filters until you have images you think are striking/ interesting.
Part 2: Develop – Extend your designs
Do you want to take your ideas a bit further?
These quick mask ideas could easily be developed into projects, like Joseph Standish's work below.
Here's 3 different things you could think about:
Think about:
Making something more crafted – involve stitching
If you enjoy hands on making, think about embellishing or joining materials with stitching.
Take one of your '15 minute masks' ideas and extend it by adding/ using another object
You could use your 'mask' to explore identity- the idea of hiding your identity or creating a new one.
If you have materials and space you could make it in to a 'beautiful object'.
How should I do this?
You could follow Part 1 of the challenge but spend more time on the making process to consider colour, scale, pattern and form.
You could try out textiles techniques for joining or adding detail; for example stitching could mean 'knitting', 'embroidering' or 'weaving' with fabrics or materials like the sample below.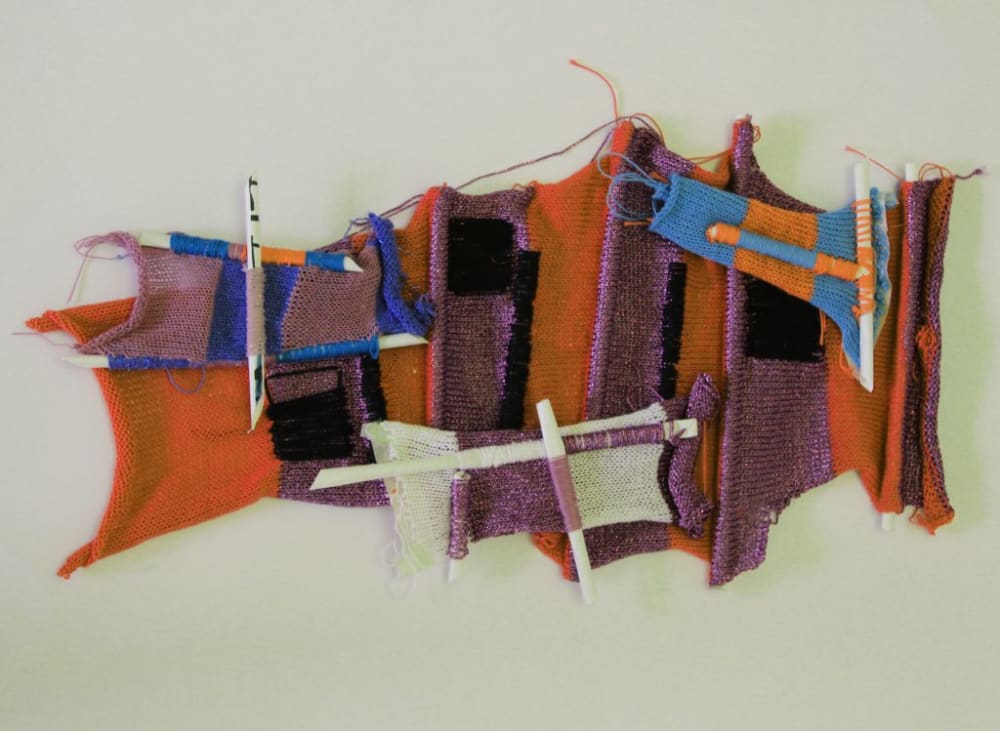 Think about:
Adding more meaning in your work. Ask questions about your design
Consider and find out more about the use and symbolism of masks:
Is a mask something that comforts, protects or changes identity or status?
Does it create an aggressive image?
How do you feel about this during the current crisis?
Look to historical and practical masks for inspiration
Think of ideas for a mask to come with a message
How should I do this?
You could use a virtual pinboard like Pinterest, Padlet or your sketchbook to start collecting research.
Then when you've got some ideas, you could use collage, drawing or continue to make new 'masks' and take photos.
If you're working in a sketchbook you could also 'annotate' your drawings or use collage. Write questions or statements- the act of writing can help you think more about your ideas.
Think about:
Taking your ideas into fashion design
Designers such as Martin Margeila have used face coverings to define key looks for a collection. Inspiration can also be found from historic and cultural fashion.
Your mask could become the start of a fashion look. Consider these ideas:
How does the mask relate to the rest of the body?
Could it be an extension of a garment (a hood, or a collar?)
What would you design to wear with your mask ideas?
How could you develop the idea of comfort and protection?
How should I do this?
You could create a series of fashion drawings.
Look out for future 'How Tos' that will give you tips and advice on this.