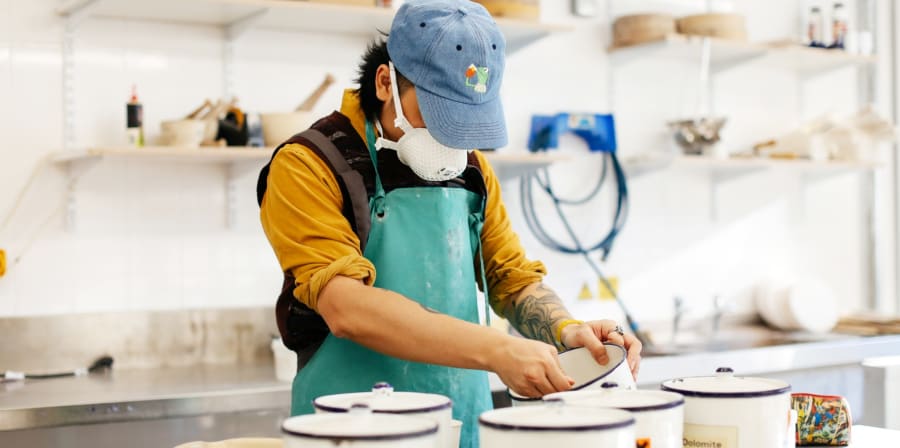 The UAL position is to continue to strongly encourage the following on campus and in halls of residence:
Use of face coverings for staff and students unless they are exempt
Frequent hand-washing and use of sanitiser stations
Maintaining social distancing where it makes sense to do so (e.g. in crowded or less well-ventilated spaces)
Regular testing (ideally twice a week) for staff and students
Continuing to observe the UAL Community Pledge
Taking personal responsibility to act sensibly
We also encourage you to participate in the NHS vaccination programme.
You'll find more guidance below.
COVID-19 testing and UAL's Report and Trace
We are keeping records of all people who enter our sites. If you have been in contact with somebody who has coronavirus, NHS Test and Trace will contact you. You must follow their instructions.
If the NHS advises you to self-isolate, you should contact:
your course tutor
your Residence Manager (if you live in UAL accommodation).
You should complete the Report COVID-19 form if you are self-isolating or if you have tested positive for COVID-19, even if you have not been on to a UAL site.
We're working with Public Health England (PHE) and supporting the NHS Test and Trace scheme. We will only share information with PHE if they ask us to. We will not use this data for any other purposes and we will delete it after 21 days.
Read our full Report and Trace Policy (PDF 208KB).
If you have further questions, check our Report and Trace FAQs (PDF 196KB).
Deep cleaning
All of our sites have undergone a deep clean in preparation for your arrival. This includes
all classrooms
workshops
learning environments
canteens and shops
We have an enhanced cleaning regime in place and there are additional sanitisation measures in place around our buildings.
Preparing our spaces
All across the University, you'll find signage reminding you:
to keep your distance
to wear a face covering
where you'll need to wait for others to finish before you can proceed. For example, in a queue or some smaller spaces.
We've installed hand sanitising stations across the university to help you keep your hands clean and to reduce the spread of coronavirus.

Travelling in London
You must continue to wear a face covering when using public transport.
This applies on the Tube, bus, tram, DLR, London Overground and TfL Rail networks; Dial-a-Ride services; the Emirates Air Line; and the Woolwich ferry.
Transport for London (TfL) also expects and recommends the continued use of face covering in taxis and private hire vehicles by both drivers and passengers unless they are exempt.
Read TfL's guidance on face coverings.
It's important to plan your journey before leaving home, as some routes and lines are operating with reduced capacity.
UK government travel restrictions
Strict travel restrictions have been implemented by the government for arrivals into England. This includes requirements for both testing and quarantine when arriving from many destinations. It is essential that you carefully review the government guidance before making any travel arrangements.
Review requirements if you are travelling from a country on:
Please note the university cannot cover the costs you incur as a result of any travel restrictions or requirements.
If you have a query that is not answered here, you can: