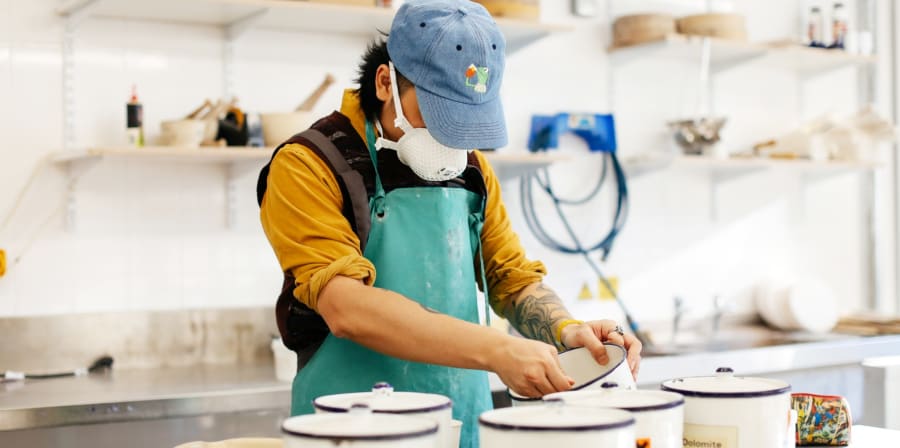 Our priority is to ensure our community are able to remain safe and well, whilst enjoying a rich and engaging university life.
UAL's approach to Covid measures will help reduce transmission and provide staff and students with a safe environment to work, study and connect.
You'll find more guidance below.
Face coverings
Face coverings are required whilst on campus until 19 March:
communal areas and when moving around buildings including lifts, toilets, offices and social spaces (except when eating or drinking)
UAL shops
all teaching and learning spaces – including teaching rooms, workshops, laboratories, offices, libraries and lecture halls.
Please bring your own face coverings with you. Where necessary face coverings are available for staff and students from reception desks across UAL, and can be collected on a regular basis.
Some people may not be able to wear a face covering and are legally exempt from the requirement to do so. Please be mindful and respectful of such circumstances.
From 19 March
Face coverings will no longer be required to be worn on site. We will continue to make face coverings available for staff and students at reception desks and in libraries.
COVID-19 testing and UAL's Report and Trace
We are keeping records of all people who enter our sites. If you have been in contact with somebody who has coronavirus, NHS Test and Trace will contact you. You must follow their instructions.
If the NHS advises you to self-isolate, you should contact:
your course tutor
your Residence Manager (if you live in UAL accommodation).
You should complete the Report COVID-19 form if you are self-isolating or if you have tested positive for COVID-19, even if you have not been on to a UAL site.
We're working with Public Health England (PHE) and supporting the NHS Test and Trace scheme. We will only share information with PHE if they ask us to. We will not use this data for any other purposes and we will delete it after 21 days.
Read our full Report and Trace Policy (PDF 208KB).
If you have further questions, check our Report and Trace FAQs (PDF 196KB).
From 19 March 2022
Students are encouraged to follow NHS guidance and stay home after testing positive for Covid. UAL's reporting tool will remain active to monitor the spread of the virus on site and signpost students to guidance if they test positive. The contact tracing element of Report and Trace will be stood down after 18 March.
Preparing our spaces
From 19 March we will remove signage relating to face coverings and social distancing.
Signage on good hygiene practice will remain in place across UAL. We will maintain sanitizing stations throughout our sites. Please make use of these to keep yourself and others safe.
Cleaning remains a primary defence against the spread of Covid and other viruses. Across UAL we will clean and disinfect all touch points daily to provide 24-hour protection against the spread of viruses.
Travelling in London
Transport for London strongly encourages you to wear a face covering when using public transport.
This applies on the Tube, bus, tram, DLR, London Overground and TfL Rail networks; Dial-a-Ride services; the Emirates Air Line; and the Woolwich ferry.
Transport for London (TfL) also recommends the continued use of face covering in taxis and private hire vehicles by both drivers and passengers unless they are exempt.
Read TfL's guidance on face coverings.
It's important to plan your journey before leaving home, as some routes and lines are operating with reduced capacity.
If you have a query that is not answered here, you can: