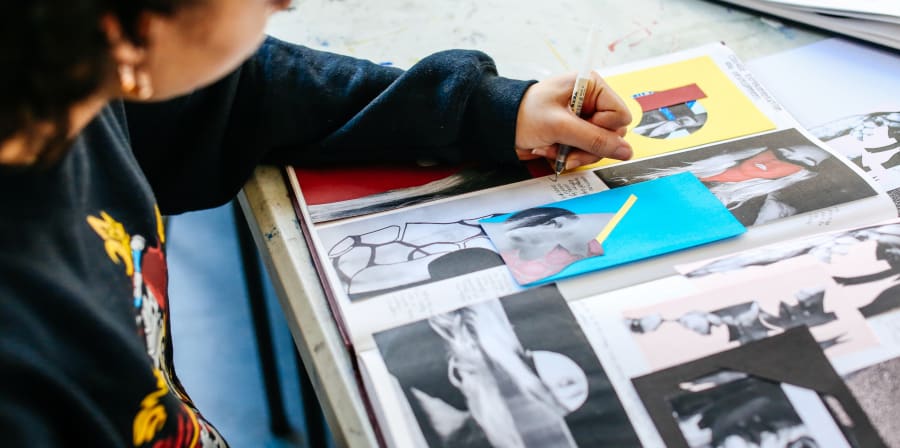 We are totally committed to your safety and to ensuring your creative education at UAL.
We have designed the delivery of your course and university experience so that we can take account of changes which may be required as a result of the ongoing impact of the pandemic.
Follow our guide to: enroling on your course, attendance, extenuating circumstances and deferrals.
Attendance
You must inform us of your plans and keep us updated via your student portal if you are not able to join us in-person.
Remember:
Students can access information, advice and support about coronavirus and associated risks by completing our online coronavirus support questionnaire or email: studenthealth@arts.ac.uk.
This may be particularly helpful if you are at higher risk from coronavirus or you live with or care for someone who is.
Foundation Diploma in Art and Design students
As you will be studying a regulated further education course, we must provide you with a certain amount of on-campus learning during the year.
If you're unable to join us on campus by the start of the spring term (January 2021), we may need to switch you onto a different but equivalent qualification to continue with online-only study.
Provided you pass the course, your existing guarantee of an undergraduate degree offer at one of our 6 Colleges will remain.
Contact our Further Education team to discuss your options: feoffice@arts.ac.uk
Advising the university how you wish to learn in the summer term
While we encourage you to return to campus as soon as you can, we recognise that not all students will be able to join us in person during the summer term. You are now able to update us on your intentions via your UAL student portal.
For the spring and summer term you can select 'blended' or 'online'. This means:
Blended – you will be studying online and attending the on-campus activities
Online - you will be studying online only and not attending the on-campus activities
It is vital that all students update us via their portal as soon as possible.
If your situation changes during the term and you are able to return to campus, or vice-versa, and need to leave London, you must update your student portal as soon as possible and let your course leader know.
You should continue to engage with the online learning elements of your course at all times.
Extenuating circumstances
Our Extenuating Circumstances process is still in place for any student who is experiencing circumstances which are unexpected, significantly disruptive and beyond your control, and which may have affected your ability to meet an assessment deadline or the level of your performance at assessment.
Examples include:
A serious medical condition
Bereavement
Trauma
Caring responsibilities
You can find out more about the process on the EC webpage.
Deferring your studies
A deferral is a break from your studies, which you can take for 1 academic year.

Please note:
New students who haven't started their course can apply to defer if your course allows it.
Returning students can only apply for Time Out due to certain circumstances such as a serious illness.
If you deferred in 2019-20, you can ask to defer again in 2020-21.
When you come back in autumn 2021, you will pay the fees for 2021-22 – which may be higher.
EU/EEA/Swiss students: from 2021-22, you cannot access UK tuition fees loans. You may also have to pay International fees, which are higher. Students from the Republic of Ireland will have to meet the same criteria as UK students. Please check our Brexit information for the latest advice.
If you change your mind about deferring, you may have lost your place to another student.
Please follow our guidance carefully.
Returning students
Like other UK universities, we are working hard to ensure you can progress your studies.
You will not be granted time out if your request is to opt out of the blended learning i.e online and on-campus studies.
Requests will be considered based on health and other acceptable reasons.
Time out will only be granted at the discretion of the Dean.
If you are thinking of applying for time out, you should contact your course leader, or speak to the Student Advice Service.
Please also review the rules and guidance for time out requests.
If you have a query that is not answered here, you can: