Social Media for Fashion (Online)
Study with one of the world's leading fashion universities, London College of Fashion and examine the evolution of various social media platforms.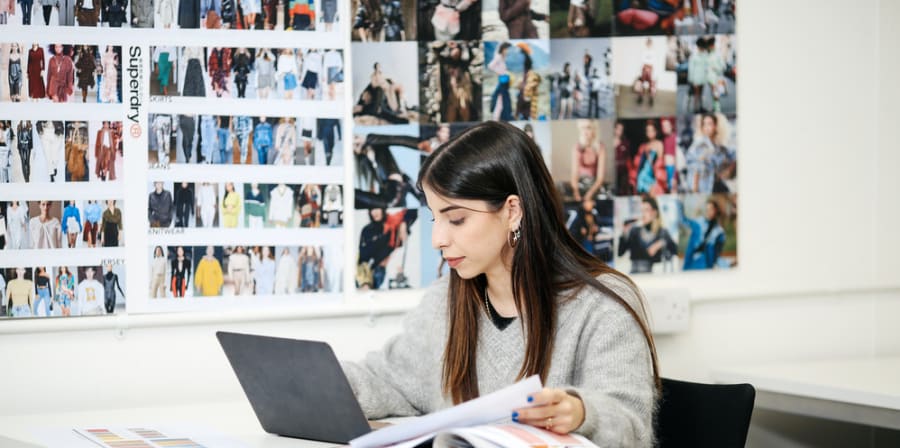 Recent developments have catalyzed an emphasis towards online retail. In this course, perfectly suited to online learning, you will examine the evolution of various social media platforms to gain a comprehensive understanding of their current impact and evolving potential.
This unit is aimed at fashion design, communications or business students or individuals involved within these areas who want to understand the principles and tactics of social media campaigns.

The ways in which written and visual content are disseminated is constantly evolving. Marketing is 'noisier' than ever before. New systems of communication feed a growing appetite for consuming easily accessible and absorbed information. In a contradictory world where fresh new content is craved but almost immediately discarded, an awareness of the complex mechanics of social media is essential to be able to use these languages both strategically and effectively.
You'll have the opportunity to examine and critique social media campaigns, engage and resonate with their audiences in a rapidly changing world. You'll use this research to inform the building of your own personal social media campaign.
Though intuitive and reactive activity fuels the progression of social media, strategic decision making and constant evaluation to generate meaningful analytics are key working methods covered in this unit. Market awareness, consumer habit, trend anticipation and market saturation need to be recognised so that they can be avoided or exploited in the creation of your own distinct and engaging voice. You'll learn how to use free tools to measure, plan and present data.
Course Content
Introduction to social media
Current social media techniques and issues
Case-studies cultural institutions, fashion brands, popular movements and influential individuals
Research, planning and tools for qualitative and quantitative metric
Individual project: social media campaign
How will I Study
You will study on the University's VLE system, developed specifically for the teaching and learning of creative practices, online.
Lectures and discussions
Group work
Guided creative projects you can complete from home or your local areas
Individual tutorials
Project work and Presentations
You will be assessed on your contribution to classes and project work.
How UAL Online Courses Work
All online courses have the benefit to be a part of the University of the Arts London Virtual Learning Environment (VLE), and have been developed specifically for the teaching and learning of Art and Design practices, online.
This Virtual Learning Environment uses the latest technologies to provide the participants direct access to lessons, assignments, portfolio space and live classes from most devices enabled to access the internet, including smartphones and tablets.
UAL Study Abroad Online courses are a mix of live classes and self-study time. Students will be required to attend live classes at a given time every week and work on the weekly assignment between classes.
Every week, the tutor and student will meet in the virtual classroom and participate as a class, which is set at a recurrent day and time (set in the United Kingdom, times GMT or BST and dates are subject to UK national holidays).
For convenience, the classes and course content are archived and made available for review for up to three months after the course finishes. The platform also enables each participant to manage their own content, including the submission of their work for assessment by the tutor.
Live course sessions:
Courses have 2 live contact hours per week, for 15 weeks in a row. The weekly session consists of 1.5 hours of lectures/seminars/talks and 0.5 hour is dedicated to tutorials. Lessons are scheduled between 3:30 pm and 5:30 pm BST. All sessions are recorded and available to view until the through the duration of the course.
Materials and equipment needed for the course:
Laptop/Computer
Good internet connection
Digital camera or smart phone
Notepad and pen
Flash drive
Lynsey Fox is a journalist and pr and communications specialist with 10 years' experience spanning fashion, retail, consumer, higher education, broadcast and print and online media. Currently Communications and Media Relations Manager at London College of Fashion, UAL, Lynsey has worked with international brands such as BskyB, Marks & Spencer, Nike, Daily Mirror and T-Mobile. Lynsey's main areas of focus include creating varied and engaging content for multiple stakeholders, competitor and marketing understanding and campaign impact analysis. In addition Lynsey hosts workshops and lectures helping start up designers create digital brand presence.
This course is aimed at you if you are entering an area of the fashion industry where you need a good social media awareness, or of you are planning to launch your own brand. It is perfect for you if you are studying a practical design subject and want to learn more about the communications side of fashion, or if you are a business student who wants to get a head-start in this fast-moving, exciting industry.
Level of study
UAL Online Study Abroad courses are for undergraduate, graduate and independent students from around the world. Minimum age is 18. Minimum GPA requirement for US students is 3.0. Non-US students should submit academic qualifications and achievements instead of GPA.
Level of English
The equivalent IELTS score of 6.0 or above is required. If you are interested in IELTS preparation courses, please visit UAL's Language Centre website for further information.
Credits
Each course is 30 contact hours (suggested credit value of 3 US credits). Students receive a Record of Study on completion of the course along with a suggested credit value. Credit is awarded by the home institution.