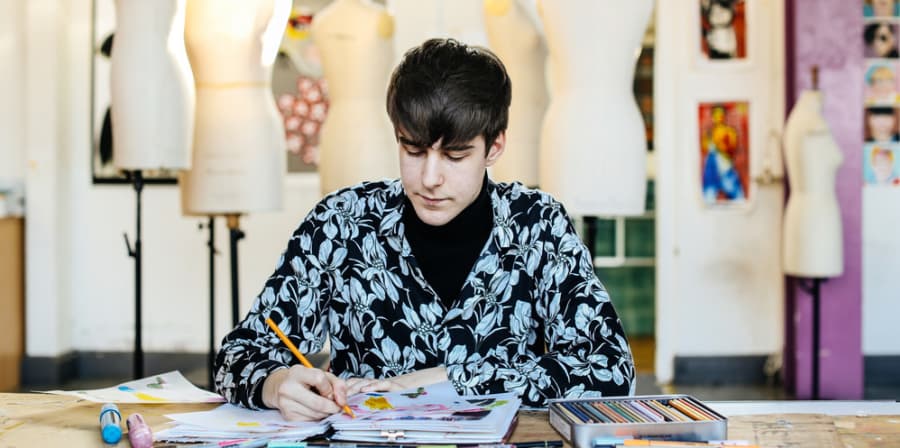 London College of Fashion's Careers Team can help you source student and graduate talent. LCF Careers works with companies and partners to create industry projects and competitions. They also advertise placements, work experience and paid jobs within the fashion industry.
Find out about all the different ways LCF Careers can help you.
Types of projects
LCF Careers support a wide range of curricular projects which are designed to help our student cohort develop their professional skill set. Projects can be run across all courses within our three schools - Fashion Business School, School of Design and Technology and School of Media and Communication.
Curricular projects form part of a student's course, usually in their second year. Students are marked on their response to briefs set by industry partners from a wide range of brands and companies.
In general, projects of this nature do not incur a cost. However, in exceptional circumstances, it may be necessary to consider an Intellectual Property (IP) fee for any student's work which is chosen for further commercial development. All Curriculum projects are supported by academics, ensuring that work is maintained to a good professional standard and that the best possible chance for productive outcomes are achieved.
Benefits
There are many benefits to collaborating with LCF on curriculum projects:
Access to high level of emerging fashion and lifestyle talent from one of the world's leading creative institutes.
Academically supported project process, ensuring students have continued guidance and support from delivery of brief to final submission.
Fresh ideas and approach from new talent, tailored specifically to your business model and objectives.
Opportunity to talent spot students for future roles and opportunity's at both placement and full time employment level.
Potential for further commercial development of ideas and proposals.
Criteria for projects
LCF Careers receive a number of project requests from external parties. Whilst we are keen to encourage collaboration on a regular basis, we do have a list of criteria that will need to be adhered to before any partnership can be explored:
All projects briefs proposed must be directly linked to an LCF Course(s). They must result in skills development and outcomes that enhance students' professional abilities, and understanding, in relation to the chosen area of study.
LCF cannot support projects which require delivery of student outcomes less than two months from proposal of project. This ensures that LCF resources are adequately provisioned to support positive outcomes, which benefit all students and collaborators. The two month proposal plan is non-negotiable and there are no exceptions.
All curriculum projects must be supported by an agreed contract between LCF and project sponsor, which LCF legal team lead on. This includes agreed project brief and outcomes and a signed student contract that all participants must sign before they can commence with work.
Explore industry projects