Local Area Guide: Zone 1 on the Bakerloo Line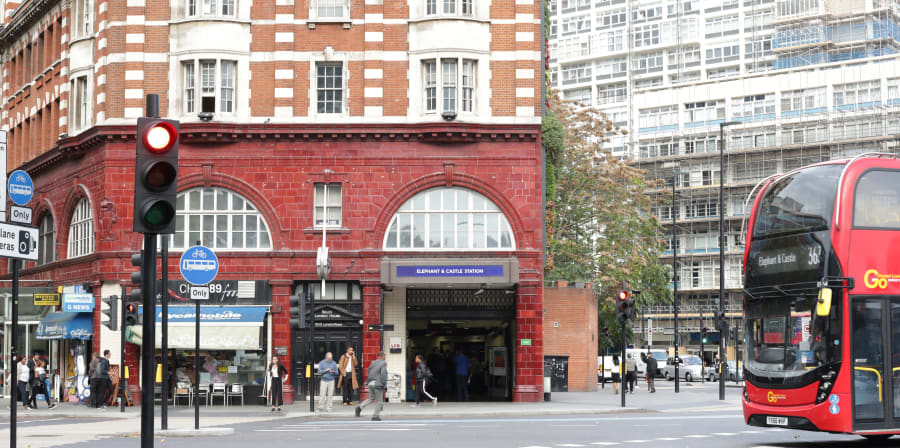 Waterloo
Waterloo is home to The London Eye, the tallest Ferris Wheel in London. The London Eye is one of the most popular tourist attractions in the United Kingdom and showcases some of the best views of the city. Not far from the London Eye you also have the London Dungeons and Shrek World.
Waterloo is also home to South Bank, where you can find the National Theatre, BFI film theatre and The Southbank Centre, which is where your graduation ceremony will take place. There are also a variety of different restaurants and bars here, so you will never be short of places to eat or drink.
Embankment
A short walk from Embankment station you will find the beautiful building that is Somerset House, who describe themselves as a new kind of arts centre in the heart of London, designed for today's audiences and creatives.
Here you can enjoy a variety of different art installations and exhibitions, as well as experiencing some fine food in one of their many cafés and restaurants.
Charing Cross
Step outside Charing Cross station and you will find yourself in Trafalgar Square – one of the most vibrant spaces in the middle of the city. The space is remembered most for its grand fountains and statues, as well as a centre of national democracy and protest where demonstrations often take place on the weekends.
The square offers its guests an entrance to the National Gallery, which was founded in 1982 and houses a collection of over 2,300 paintings dating from the mid 13th century to 1900 – pretty impressive, right?
Take a short walk from Charing Cross and you'll find yourself in Leicester Square. From West End Shows and world-class films to M&M's World and the LEGO Store, there is no shortage of entertainment.
Piccadilly Circus
Picadilly Circus is one of the most famous road junctions in the world and is often compared to New York's Times Square with its bright lights and illuminated screens.
Piccadilly Circus joins with:
Regent Street for your shopping needs
Shaftesbury Avenue so that you can visit a theatre
The Haymarket where you can find Tiger Tiger and Byron Burger
Coventry Street for access to The Comedy Store and Prince of Wales Theatre
Glasshouse Street which leads the way into Soho.
Top pick:
Head over to Waterstones – Europe's largest book shop with a stunning top floor bar/café offering awesome views of the area.
Oxford Circus
Coming out of Oxford Circus station brings you to Oxford Street – Europe's busiest shopping street with over 300 shops and restaurants, running for 1.2 miles between Tottenham Court Road and Marble Arch.
If you're hungry after a long day of shopping then head over to Kingly Court in Carnaby Street where you can find an array of food and drink spots – as well as yoga on the top floor!
Tucked away behind Oxford Street is the Photographers Gallery, which holds a variety of events and exhibitions open for public view
Regents Park
Come out of Regents Park station and you will find yourself in The Regents Park. The area is one of the Royal Parks of London and is the largest grass area for sports in Central London offering a range of activities for its visitors – including a boating area. The park also has an Open Air Theatre and is home of the London Zoo!
Baker Street
A stone's throw away from Baker Street is Madame Tussauds. From David Beckham to Jonny Depp, The Queen to Kim Kardashian and The Hulk to ET, Madame Tussauds is never short of celebrities for you to take selfies with.
Marylebone
If you're a cricket fan, then take a short walk down Park Road to Lord's Cricket Ground where you can go for a tour of the grounds and enjoy afternoon tea.
Top pick:
Visit the Everyman Cinema who are reinventing our cinema experiences. Sit back, relax and watch a film while ordering food and drink directly to your seat!
Edgeware Road
At the end of Edgware Road sits the magnificent Marble Arch, which is one of London's most visited sites. The Arch was designed by architect John Nash and was completed in 1833.
Paddington
Fun Fact: Sir Alexander Fleming had everyone talking about Paddington in 1928 when he discovered penicillin at St Mary's hospital.
If you're visiting the area, then make sure to take some time to appreciate the architecture of the station, which was designed by Isambard Kingdom Brunel and built in 1852. The building is Grade 1 listed which means that it can't be knocked down!
Top pick: If you want a break from the hustle and bustle of the city, then head over to Little Venice – a relaxing and peaceful canal area with a variety of waterside cafes and restaurants for you to enjoy.