Summer Study Abroad - Contemporary Photography Practice

Develop your personal passion in photography
This course is practice-based and emphasizes the research and development of a personal project. It is perfect for you if you are pursuing a personal passion in photography. There will be workshops in different aspects of photography production as well as a critical consideration of themes in contemporary photography practice.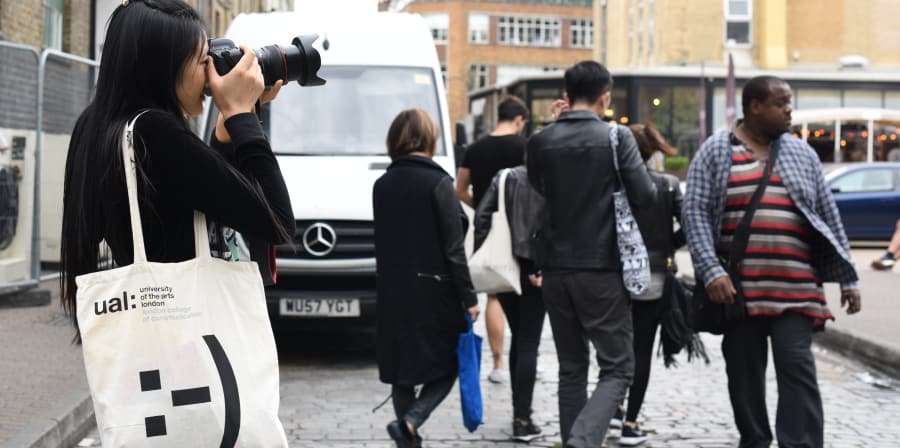 This summer course is practice-based and emphasises the research and development of a personal project. There will be workshops in different aspects of photography production as well as a critical consideration of themes in contemporary photography practice. These include colour and black & white darkroom development, flashguns, large format digital printing and retouching with Wacom tablets. LCC Photography has an international reputation for exciting and innovative photography ranging from fine art to photojournalism to commercial practice, with numerous successful and high profile alumni across the arts and media sectors.
You will be shown how to research and develop a project conceptually as well as practically, and how to present and promote to an outside audience. The course will be taught through a mix of workshops, seminars, tutorials and critiques. You will have the opportunity to work in one of our industry standard studios or out on location.
You will take advantage of the wonderful array of exhibitions in London in a programme of gallery visits followed by discussion of exhibitions and of where your own work fits into the contemporary panorama of photography practice.
You will be assessed on the selection and installation of your work in one of the galleries at LCC. On the final day of the course we will host a private view and you will be encouraged to invite friends and family. See further course information below.
Course Aims
Enable you to explore your creative potential
Support you as you begin to develop an understanding of the relationship between theory and practice, and how one informs the other
Facilitate a hands-on your learning experience as you learn new technical skills
Learning Outcomes
By the end of the course you should be able to:
Show an basic understanding of contemporary photographic practices (Subject Knowledge)
Research, evaluate and organise information from a variety of sources (Research, Analysis)
Make creative work which explores your personal approach to photography (Experimentation, Technical Competence)
Present a small coherent body of work, taking the audience into account (Communication and Presentation)
Who Should Attend
This summer school is suitable for people who have some experience in photography and wish to strengthen their practice and conceptual thinking. You do not need to be a current student to apply.
Feedback
"Quality tutors, wide scope of courses, great facilities."
"I enjoyed the course. Especially colour darkroom. I wanted to know how many papers we can use."
"I enjoyed the various artist talks and lots of workshops."
Certificate of attendance
On completion of this course you will receive a short course certificate of attendance.
If you are a student and need any additional supporting documentation to convert this into credit for your home university we can provide that for you.
Cora James
Cora graduated from Edinburgh College of Art in 2015 with a BA Hons in Photography. She was awarded the Andrew Grant Bequest Scholarship and became a member of the New Photographers Guild in association with Street Level Photoworks in Glasgow where she exhibited her photobook 'Adult World' in May 2017. Her work has been featured internationally in King Kong, Bird in Flight and Vanguards magazine. From 2018-2019 she worked as a Tate Year 3 Photographer for Steve McQueen's Year 3 exhibition at Tate Britain; one of the most ambitious visual portraits of citizenship ever with 76,146 year 3 children in 3,128 photographs. She has also worked as a freelance facilitator for PhotoFusion on their Healthy Relationships Programme working collaboratively with St Michael's Fellowship and young parents. She currently works as a Photography Specialist Technician and an Associate Lecturer for BA1 at London College of Communication.
Please bring the following materials with you on the first day of the course:
You must have a good quality camera that you normally work with, either digital or analogue.
Please bring with you examples of your own photographic work, either in the form of prints in a portfolio, or stored in digital form (on a memory stick, for example), ready for presentation.
You may wish to bring your own laptop, or tablet, but these are not essential.
Whilst you are here you will have the opportunity to work with new and advanced materials and processes. Most of these will be supplied but there will be a small fee for some.
Entry Requirements:
Academic - This course is designed for people who have previous photography experience. You should have studied photography or pursued in depth it as a hobby or profession. To join the course you must be able to use a DSLR on manual settings.
Portfolio - When you apply you will be asked to send a portfolio of your photography work in a PDF format (no larger than 10 MB).
English - You should be proficient in written and spoken English and be able to participate in group discussions and make presentations. As a guideline we would expect you to have an IELTS score of 6.0. The Language Centre at University of the Arts London offers English courses for overseas students.