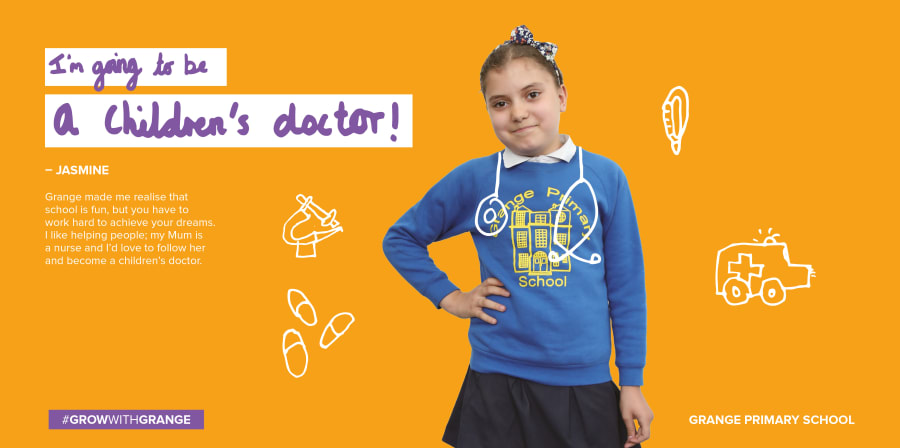 Communication campaign
Southwark-based Grange Primary school worked with students from MA Graphic Branding and Identity on a promotional campaign aimed at raising awareness of the school in the local community. Taking part in a paid live brief, students met with the school, conducted research, held workshops with 60 members of staff and pupils.
The students focused on using real stories from staff and pupils, as they felt that this was critical to building trust and raising the profile of the school in the local area.
Grange Primary school had recently been converted into a two-form school with new, state-of-the-art buildings and facilities. The construction work meant that the school "had looked like a building site" and that had made parents "concerned" about sending their children there. Having known about London College of Communication's involvement in community projects, the Governor of the school Jolyon Tibbitts, reached out for assistance which was fully funded by the City of London Weavers Livery Company who have been a partner to the school for over 20 years.
The campaign involved a range of materials for Grange – creating posters, social media graphics, a prospectus, and animations. "We were really impressed," Headteacher Diana Valcheva said, "particularly with the quality of ideas, the creativity and commitment of the students who worked with our school. "The sessions were well-designed, delivered with care and appreciation, which left many colleagues feeling positive and recognised. It was a great way to start the final half term of the school year. Grange certainly found new friends and ambassadors in LCC!"
Interested in connecting your business with students or graduates at LCC?
Contact
Ben Walter
LCC Business and Innovation
Email: b.walter@lcc.arts.ac.uk Tel: 07793 777055