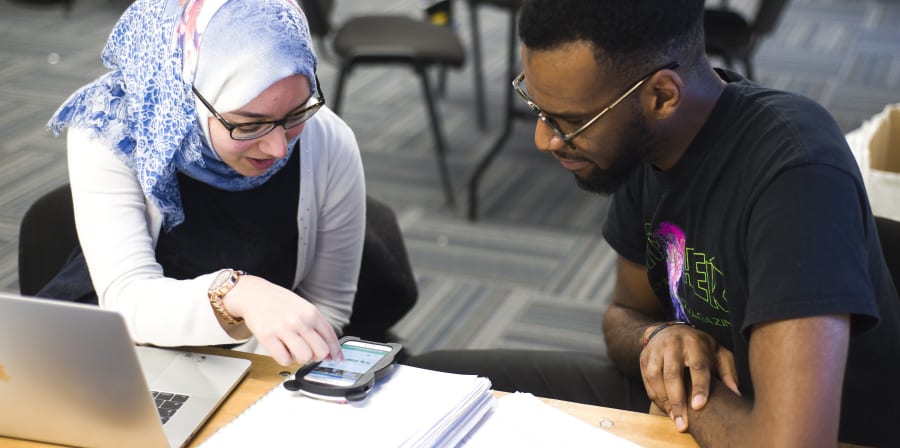 Talent Works
Talent Works gives LCC students paid work with local charities, social enterprises and community groups. Over four years 170 students have worked with 97 organisations. Thanks to funders, all of our clients received the work at no cost.
Talent Works has built websites, run social media campaigns, created new branding, made films, taken photographs, designed print and digital materials, and written stories.
What we've done
In 2016 we tested the need and where we could have the most impact, helping charities and social enterprises with a wide range of creative and communications projects.
In 2017 Talent Works added training for the students, prototyping with 12 students a project that has been scaled up in 2018. 51 students were trained in web design, build and publishing, and in client management, before being matched to 25 organisations who needed a new website.
Talent Works studio
The latest iteration of Talent Works is a pop-up studio. For eight days in December 2018, March 2019 and July 2019 a multi-discipline team of around 30 students worked intensively on up to 18 briefs. They made films and animations, built websites, designed print materials, created social media assets, and advised on strategy.
Generously hosted by Workspace Group at their Kennington Park location, the studio was also supported by volunteers from MullenLowe London, Pulse Films, Collider, Wolf and Player, Drum OMG, SampsonMay, ForPeople, St Luke's, Trunk, Fat Toad Films, IDEO, Engine Service Design, Good Agency and Weber Shandwick.
Why we did it
We discovered that local social enterprises, charities and community groups can't access high-quality communications talent to help them grow. Students, especially from disadvantaged backgrounds, can struggle to get their first paid work – the job that may kick-start their career. Talent Works is designed to address these two challenges.
Partnerships
Talent Works has helped a wide range of organisations, both large and small, new and established, mostly based in Southwark and Lambeth.
Next steps
Talent Works continues to develop, learning from and building on success so that the programme can support more students and more local organisations.
We're particularly looking for creative industry professionals who can support students taking part in Talent Works as volunteer mentors.
Working with Talent Works 2019
Students tell us about their experiences working on different projects as part of Talent Works.