Summer Study Abroad - Fine Art Studio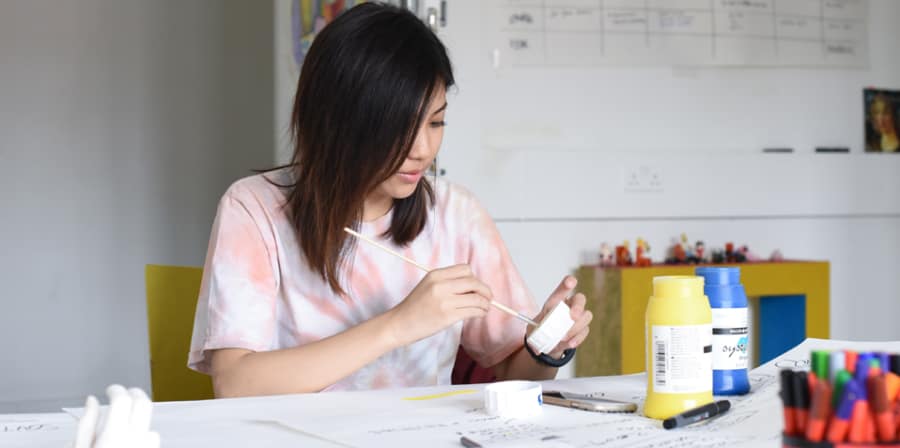 The Fine Art Studio programme at Chelsea College of Arts is designed to challenge students to develop investigative and forward-thinking approaches to their art practices, with an emphasis on the interdisciplinary dialogues between art-making and critical-thinking.
The programme is studio-based and practice-led, establishing creative links between a wide range of materials and processes, including; drawing, sculpture, painting, collage, film, photography, sound performance, installation, collaboration, site-specificity
Practice and contemporary theory are unified throughout the programme, enabling students to establish and extend the contexts within which they operate as a practitioner.

The Fine Art Studio programme is distinguished by three developmental stages and projects:

STAGE 1 – Developing a Research-Based Practice: 'A Frame in the Façade' guides students through a series of intensive one-day workshops, where experimental links will be established between diverse materials and processes.

STAGE 2 – Context: 'Remapping the Fold' challenges students to locate the key ideas, themes and working methodologies that have arisen in their practical explorations during Stage 1, and develop a self-propelled practical and contextual enquiry over the next four days.

STAGE 3 – Consolidation: 'The Space Undone' encourages students to reflect upon their developments in Stage 2, and realise a nuanced body of work that extends the potentialities of their practice, with an emphasis on ideas of 'space' and 'display'.

Students will play an active role in a series of lectures, artist seminar sessions, group critiques, one-to-one tutorials, gallery visits and gallery workshops, as well as collaborating with MA Fine Art and MA Curating and Collection students to curate and install and exhibition of work made during Stage 3 of the programme.


Fine Art practice is an extended field of enquiry, and no longer can be considered as demarcated modes of expression. Rather, they are 'zones of contagion', constantly expanding and 'widening their scope'. This open and concept-led programme will encourage you to work with a wide range of mediums and processes to enable you to locate, develop, contextualise and rigorously analyse your developments as a creative practitioner.
Benjamin Cohen
Benjamin Cohen is an artist, curator and educator living and working in London and Athens, Greece. He studied Fine Art at Chelsea College of Art and Design (2005-6), BA Fine Art Loughborough University School of Art and Design (2006-9) and MA Fine Art Central Saint Martins (2012-14). Cohen collaborates with A-DASH: an artist-led initiative based in Athens (Greece) combining studios, a project space, exhibition space and residency program, with an emphasis on experimentation, collaboration and interdisciplinary exchange.
Please bring the following items with you to the course
Digital or SLR camera (optional)
Camera phone
Laptop or Tablet
USB memory stick
Sketchbook
pens and pencils
Course Level
The Fine Art Studio programme is aimed at students who are inquisitive, open to taking risks, engaged in contemporary fine art practice, and who are seeking modes and systems to innovatively expand upon both their practical and contextual fine art knowledge.
The programme is not appropriate for students who wish to develop basic drawing and/or painting skills.
Who should attend?
Summer Study Abroad programmes offer the opportunity to build on your knowledge of an existing subject, or to study something new. This course is based on a selected project from the year one undergraduate curriculum, and is delivered by a specialist course team. The course is suitable for those with some prior experience of fine art or art history.
Summer Study Abroad programmes are ideal for current undergraduates wishing to continue their studies into the summer, or those who want a different study abroad experience – it's a great way to get a taste of study at Chelsea, and life in London.
Entry requirements
Summer Study Abroad programmes are open to students of all levels. Applications are made by online application form.