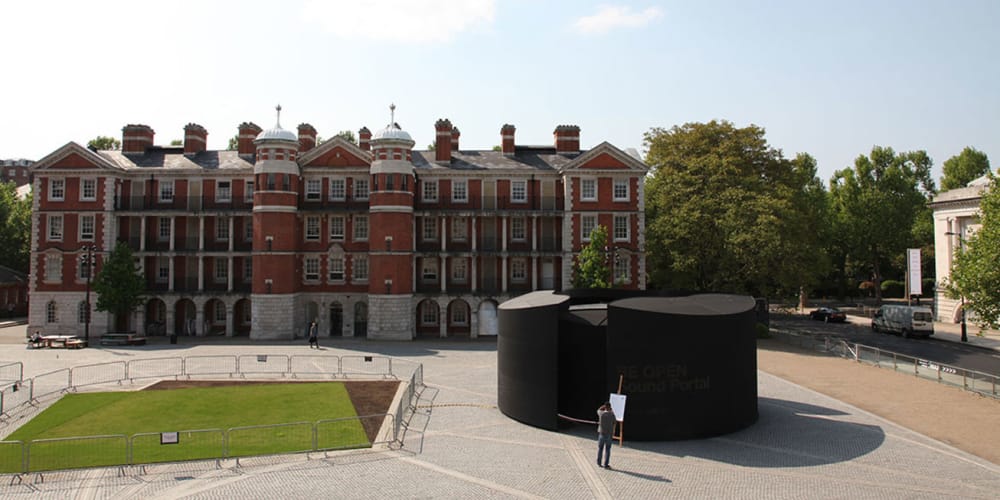 As part of the social and cultural initiative's research into sensory design, Be Open organised a cross-college project, focusing on the impact that sound has on our lives.
The Sounding Space project saw the 3 University of the Arts London colleges, including Chelsea, explore the medium of sound. Students from undergraduate through to PhD level were involved, as well as academics and experts from the field of sound.
The Be Open Sound Portal provided a focal point for the work. Previously seen in London's Trafalgar Square, this unique structure was constructed on the Rootstein Hopkins Parade Ground at Chelsea. Students used its ambisonic technologies to create themed sound compositions.
Elena Baturina, Founder, Be Open Foundation, said: "We were impressed by the way Chelsea worked with our proposal and turned it into a fully integrated programme. The students responses were highly original, diverse and innovative, showing how inspired they were by the sound portal residency."
Director of Be Open Foundation, Gennady Terebkov, also had something to say about the project: "The staff were very responsive to our needs and contributed their valuable knowledge to make this into a truly creative collaboration."
Sounding Space culminated in a private view and 2 day symposium.
Contact us
Do you have a project you'd like to collaborate with us on? Interested in what Chelsea College of Arts can do for you? Get in touch with our business and innovation team.