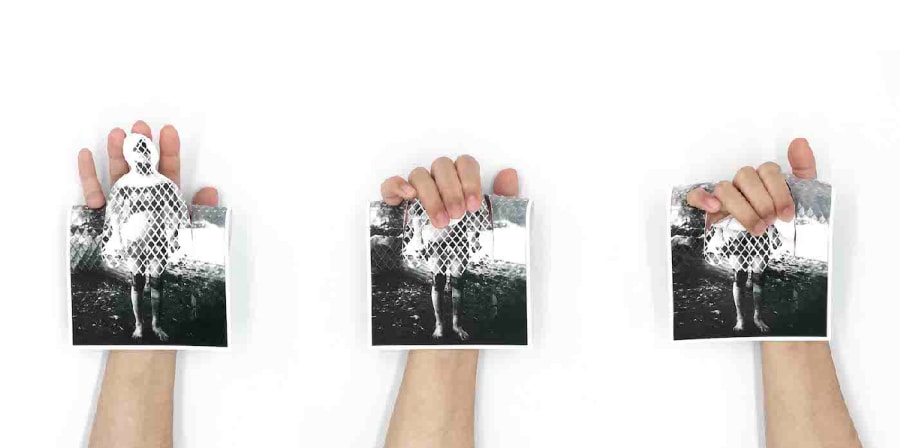 2 November 2020 – 4 January 2021
A while ago, a postcard connected people from far away. A miracle of human management and organisation which (mostly) got a small piece of paper to a particular person, possibly on another continent, and for a very small sum.
The postcard was usually a souvenir from a museum, art gallery or tourist shop, carrying the image of a work of art, a place, a person, a landmark or maybe a joke. The message was available to read by others so it could not be too private. Nowadays this practice is almost defunct, overtaken by social media with all its possibilities of instant contact.
For this project, artists and jewellers from South America and BA Jewellery Design students from Central Saint Martins were each given a postcard from the other side of the world. Each postcard, depicting an image of someone wearing something, was transformed into something to wear.
Postcards from the Edges was organised by Caroline Broadhead, artist and former Programme Leader for Jewellery, Textiles and Materials at Central Saint Martins. Students involved: Fariha Ahmed, Gabriela Andreacchio, Carolina Bernachea, Lou Boré, Sal Cambio, Alejandra Camhi, Piran Caseley, Kathy Hoi Kiu Chan, Leo Costelloe, Elvira Cibotti, Jessica Ens, Amy Jane Eves, Maria Forti, Chan Huo, Monique Lecouna, Layla Lin, Carolina Lizardo Carella, Ayelen Mohaded, Francine Oeyen, Jiho Park, Shiwangi Periwal, Clova Rae Smith, Sol Rio, Sofi Suaya, WALKA, Ruiyi Wang, Barbara Wei (Yixuan), Evgenia Zembyla