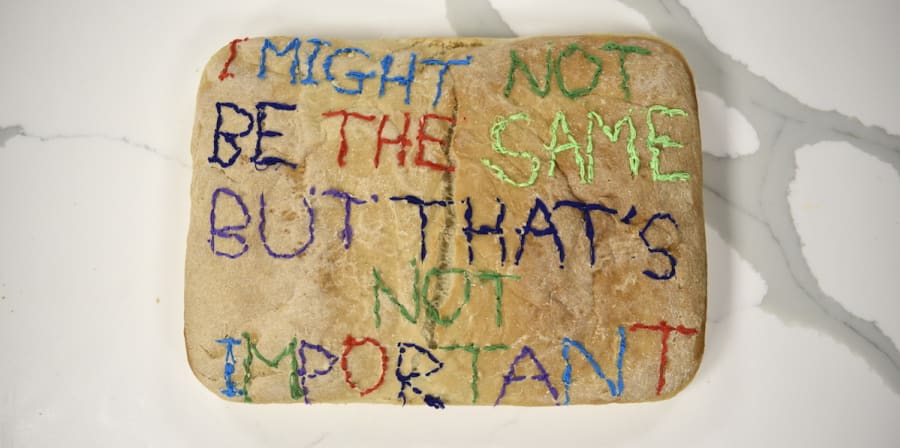 4 March – 5 April
In summer 2019, a group of BA Fine Art students took up residence in Jaywick, Essex. Documenting their time in the town, this exhibition I might not be the same but that's not important is both a celebration and exploration of the collaboration that unfolded between our students and residents in the area.
Over a period of three months, the students stayed on-site, met local communities and tested and shared ideas. Local pub Never Say Die became a base for students to organise workshops and events. They met members of the Community Gardens, attended Knit and Natter, worked with local artists, held a tea ceremony in the Sun Yau Chinese restaurant and ran a casting workshop with local teenagers. Led by student Sarah Allen, these interactions became the starting point for this exhibition. Even the title is inspired by the area – taken from a sign hung in a local Chinese takeaway.
On their final day in Jaywick, the students arranged a cycling tour of their work situated around the town: on the beach, at the top of the Martello Tower, at the bus stop and in the Sun Yau restaurant. I might not be the same but that's not important documents the residency, its resulting artworks and also includes new work inspired by the students' stay.
---
This project was funded by Essex Council. Exhibiting students: Sarah Allen, Amelia Brewerton, Chloe Kelly, Lu Meng, Danielle Sampson, Naz Smouna, Corbin Spencer Shaw, Chloe Vince, Xiexin Xin.
Central Saint Martins is committed to addressing the climate and biodiversity emergency. This exhibition is zero-waste.