Until 8 December
Forest School: Constructive Land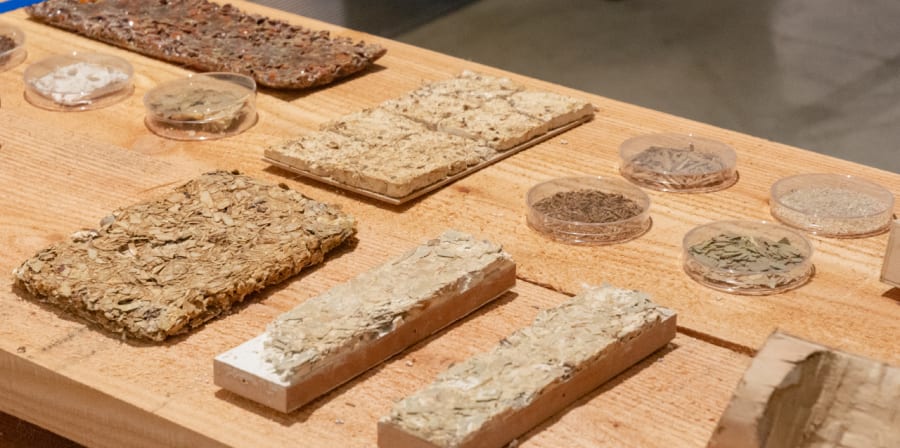 What would the built environment look like if the health of our landscape was prioritised over the demands of industry?
In July and August of this year, Central Saint Martins' Forest School and Material Cultures hosted Constructive Land, a research project that examines the future of the British landscape in the context of the climate crisis. In order to transition to a decarbonised built environment, we need to rethink the way people relate to the planet's natural resources, confronting the tension between our landscapes and sites on which people build, and the conditions in the forests and fields from which people draw materials and products to do so.
Over the course of the Forest School: Constructive Land exhibition in the Lethaby Gallery (26 October – 11 November 2022), CSM's Forest School has hosted a series of conversations, workshops and screenings in the Lethaby Gallery. Courses and initiatives from across Central Saint Martins have been in dialogue with the Constructive Land research, asking questions such as:
How can we learn from our surroundings, to move beyond extractive practices?
How can we, as a creative institution, combat the climate crisis?
What role does creativity play in strategising for a post-carbon future?
The outcomes of these discussions will be displayed in these window galleries, to continue the conversation beyond these intimate exchanges, and to think more broadly about how we can advocate for our planet.
Visit
Open to the public daily until 8 December
The Window Galleries are located in the thoroughfare of the Granary Square building, Central Saint Martins.