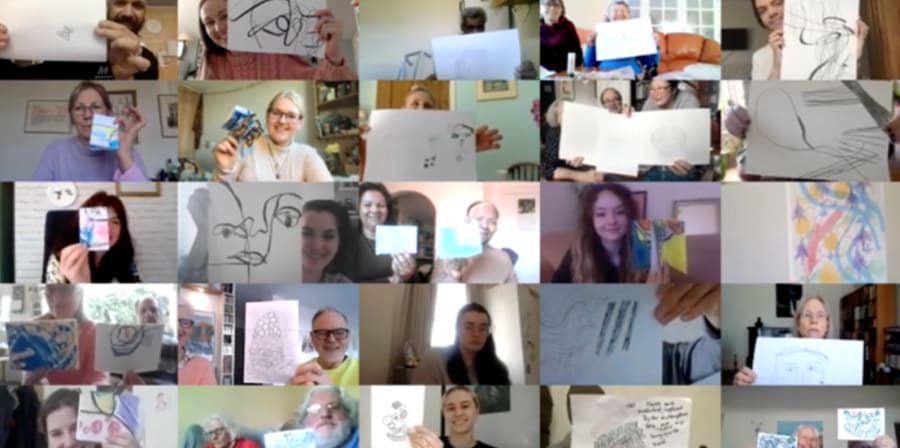 8 July - 12 August
BA Fine Art worked with the charity Arts4Dementia and Thornhill Primary School to deliver a series of practical workshops to explore new ideas. The result of these workshops will be on display in the Window Gallery from 8 July.
Arts4Dementia
Arts4Dementia works to transform the lives of people living with dementia and those who care for them through the joy of the arts. BA Fine Art students worked with the charity to deliver a series of workshops which helped participants to develop the skills to make and build in VR using digital 3D sculpting software. Our students wanted to explore making both with real and digital sculptural materials, demystifying techniques and technologies and democratising access to the arts and to virtual space.
The project was situated within a fictional virtual hair Salon, with the aim of reconsidering the haircut from a sculptural perspective:
'We perhaps wouldn't think of the Salon as an obvious site for virtual world building or the making of art. It is, however, a space we are all familiar with and one that seems to have multiple functions. It is a social space where we can engage in friendly conversation, it is a space of wellbeing where we can pamper ourselves and a making space where hair is cut, coloured and styled.'
This project proposes a model in which online workshops can be both a way of bringing together diverse communities, and of teaching digital skills by making together in a virtual space. Participants do not need to have any prior digital skills to take part. Using readily available free software, those involved can explore a range of techniques for making digital objects, and these skills can be displayed, accessed, and verified online and included on a CV.
Thornhill Primary School
Visitors can also see work made by Stage 2 BA Fine Art students in collaboration with pupils from Thornhill Primary School. CSM students devised and ran a series of workshops in which they explored ideas and themes from their own practice.
Visit
Open to the public daily 8 July - 12 August 2022
The Window Galleries are located in the thoroughfare of the Granary Square building, Central Saint Martins.