16 November 2020–15 November 2021
Tittytainment Age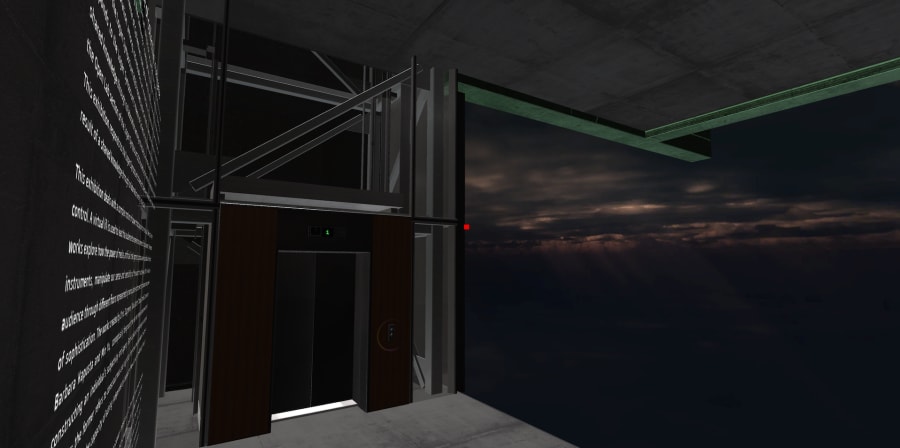 Tittytainment Age: Exploring the flipside of collective intelligence
Tittytainment Age is an immersive virtual exhibition, part of the Open Lab section of the Logan Symposium 2020 hosted by the Centre for Investigative Journalism. This exhibition responds to the Logan Symposium's theme of Collective Intelligence.
In this exhibition, a virtual lift leads the audience through a selection of digital artworks that explore how the media, artificial intelligence, big data and political and financial instruments manipulate our sense of the world in subtle ways. This digital exhibition includes works created by artists Chris. Dugrenier, Talia Golchin, Tobias Gumbrill, Zahraa Karim, Barbara Kapusta and Min Yu. Collectively and conceptually, they foreground the way in which such communication manipulates individual subjectivity and agency.
Tittytainment, a term coined by political scientist Zbigniew Brzezinski in 1995, describes the way in which entertaining, and intellectually undemanding content pacifies the public and inhibits people from independent thinking. We view this phenomenon as the opposing perspective of collective intelligence. The works in this project critique both parties, audiences and media outlets. Through satire and critique, the project energises a collective agency to 'switch people on'.
Tittytainment Age is curated by MA Culture, Criticism and Curation students: Na An, Maria Serena Padricelli, Isa Bascunana, Clara Jean Wicaksono and Maria Radu in collaboration with MA Fine Art students Chris. Dugrenier and Talia Golchin.
Artists featured in the project include Chris. Dugrenier, Talia Golchin, Tobias Gumbrill, Zahraa Karim, Barbara Kapusta and Min Yu.
Project partner Centre for Investigative Journalism (CIJ).
Project tutor Lee Weinberg.
Events
Round table discussion with curators and artists
Thursday 26 November, 5.00-7.00pm (GMT)
The talk will explore the topic of the exhibition: the observation of power and lack of power in the social exchange system. To join the event you can book on Eventbrite. Together with the curators and artists, we look forward to seeing you.