16 November–18 December
Dream. Snap. Freedom.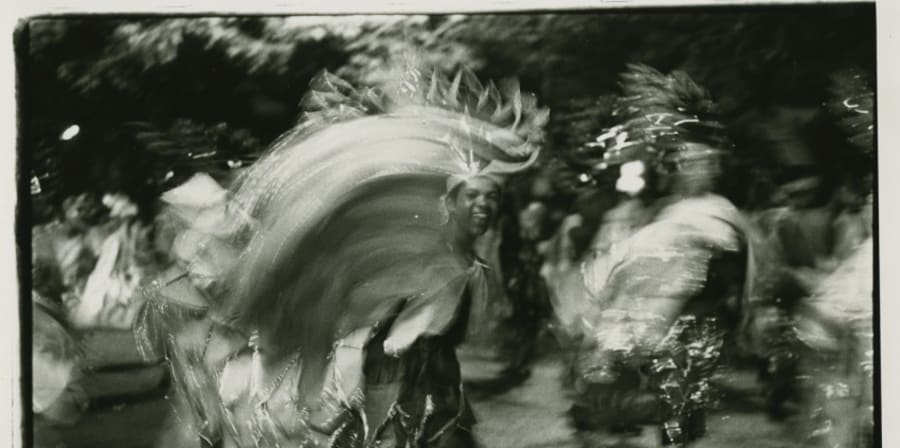 Dream. Snap. Freedom. Radical Play Through Photography
Dream. Snap. Freedom. is a month-long online exhibition and events programme focusing on radical play and photography.
Radical play refers to forms of activism that prioritise joy and celebration in expressions of solidarity. Examples like Notting Hill Carnival, Pride Festival and other events where dancing, dressing up and celebrating identities offer a view of activism often excluded from mass media. In exhibiting images by artists working in these ways, we display accessible forms of radical play in activism, through its representation in our project's exhibition and public events.
Curated by five MA Culture, Criticism and Curation students in collaboration with Four Corners Film and Photography Centre, the exhibition highlights LGBTQ+, anti-racism and feminist expressions of radical play. The exhibition draws from the archives of Four Corners, which include the Half Moon Photography Workshop and Camerawork publications and exhibitions alongside a series of recent photographic work. By creating an inter-generational dialogue between the archive and contemporary photographers, we re-activate the Four Corners' archives in relation to our present moment, considering how different generations engage with the ongoing fight for equality, representation and social justice.
Dream. Snap. Freedom. is curated by Sufiyeh Hadian, Margherita Salati, Jiaji Wang, Wenjing Zhang and Filippa Georgiadi.
It includes work by artists Isobel Van Dyke, Sissel Karneskog, Viktoria Vorobeva, Sebastian Barros, JC Verona and Terrence Phearse.
Project partner: Four Corners Film and Photography Centre.
Project tutor: Louise Garrett.
Events
Film Screening and Panel Discussion on LGBTQ+ activism with guests Ed Webb-Ingall & Isobel Van Dyke
Thursday 19 November, 5.00-7.00pm (GMT)
After a screening of Ed Webb-Ingall's 2017 video We Have Rather Been Invaded, we look at Isobel Van Dyke's 'Van Dyke' Magazine on LGBTQ+ education. The discussion will centre on inter-generational dialogue between artists and the activism surrounding Section 28 – a law that existed between 1998 and 2003 that stopped councils and schools 'promoting the teaching of the acceptability of homosexuality as a pretended family relationship'. This will be followed by a Q&A
Guest talk with photographer Terrence Phearse
Wednesday 25 November, 6.00-7.00pm (GMT)
We will discuss anti-racism activism and launch of Phearse's new book, 'The Color Line'
Panel Discussion with Sissel Karneskog and Sufiyeh Hadian
Wednesday 2 December, 6.00-7.00pm (GMT)
The topic will be Feminist Activism and Karneskog's works, 'I am what I am'
To book your place please visit Four Corners' website.