Current Exhibition - Madame B: Explorations in Emotional Capitalism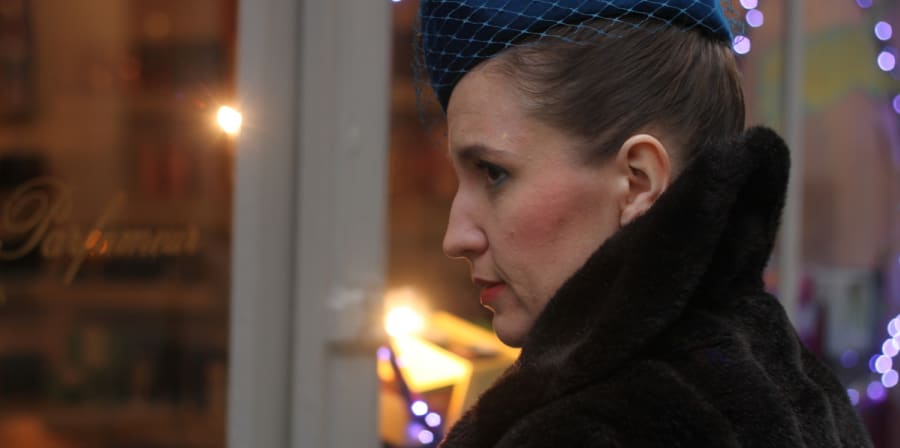 2 March–15 April | Lethaby Gallery
Madame B is an immersive video installation which examines the link between capitalism and romance in relation to Gustave Flaubert's 1856 novel Madame Bovary. It is a collaboration between Dutch cultural theorist and video artist Mieke Bal and British video and performance artist Michelle Williams Gamaker.
Working anachronistically to highlight the novel's shocking contemporaneity, Madame B opens up historical and contemporary connections between economics and romantic love, desire, consumption and loneliness. Divided into eight key scenes and split across 19 screens, the installation frames the complex drives at play in the lived experiences of women – both then and now. Through an immersive video experience, Madame B shows how these factors have persisted over the 150 years since Flaubert's novel was published.
Bal and Williams Gamaker's interdisciplinary practice oscillates between research and creative making, reflection and articulation. The exhibition reflects key teaching methods employed at Central Saint Martins, such as visualising critical discourse and supporting experimental creative and exhibition practices.
The project is hosted and curated by Michaela Giebelhausen and Alison Green, Course Leaders of BA Culture, Criticism and Curation and MA Culture, Criticism and Curation. Launched at Central Saint Martins in 2004 and 2013 respectively, both courses propose that "culture" – as an intentionally broad and contested term – is a provocative starting point for practices of curating and critical writing. The courses consider different kinds of museums and curated spaces and what kinds of discursive systems they reflect. Teaching staff include curators, cultural historians, art historians, writers, arts professionals, archivists, designers and film-makers. Research skills are taught alongside practical tools for – and opportunities for – organising exhibitions and publishing critical writing.
Madame B was first exhibited in 2014 at Muzeum Sztuki in Łódź, Poland and has since been shown in Colombia, Finland, Australia, Norway and Spain. This is the first time the video installation has been exhibited in the UK.
Event Programme
Reading Group
During the exhibition the Lethaby Gallery will host a reading group – devised to explore themes around feminism and capitalism, interdisciplinarity and film theory. All sessions will take place on Tuesdays from 4–5.30pm.
5 March: The novel
12 March: Focus on Bal and Williams Gamaker
19 March: Performativity and affect
26 March: New feminisms
2 April: Feminist economics
9 April: Feminist curating
The sessions are aimed at students and staff at University of the Arts London, but anyone is welcome. If you would like to see the full publication list with suggested further reading, it can be found here.
Workshop
Thursday 14 March, 9.45am–4.30pm
Lethaby Gallery and C202
The purpose of the day is to engage with some of the central themes of Madame B and to explore participant responses. The day will include an extended visit to the exhibition and three short workshops, led by the artists and the curators, which will focus on the following themes: adaptation as loyalty by betrayal; exploring fictional activism; gender; care; curating. The day will conclude with Bal and Williams Gamaker in discussion about Madame B and their current work. The discussion will be chaired by film historian Dr Margherita Sprio, University of Westminster.
Film screening
Friday 15 March, 3-4.30pm
C202
A screening of the film version of Madame B (2013). Running time 96 minutes.
Performance
Claremont Project: On Love
Monday 15 April, 3.45­–5pm
Lethaby Gallery and C202
With support from theatre director Emma Bernard, members of Claremont Project, a non-profit organisation providing creative opportunities to adults over 55, will – through writing, dance, singing and visual art – come together in a performance responding to the themes in Flaubert's novel and the exhibition.
Opening times
Tuesday to Friday: 11am–6pm
Saturday: 12–5pm
Stay in touch
Sign-up to receive the Lethaby Gallery newsletter.