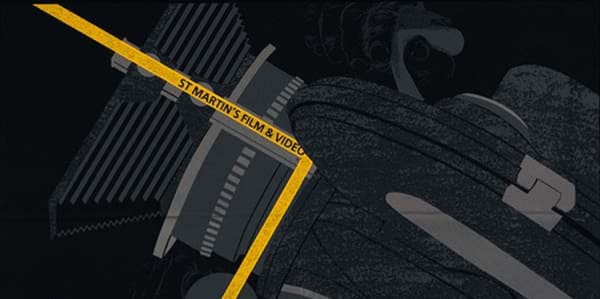 20 February – 24 March 2018
Central Saint Martins has been crucial to artists' moving image culture in the UK since the 1960s. Temporalities is an exhibition drawing on the rich history of fine art moving image at the college and projects that practice into the future with Correspondence, a series of newly commissioned responses by current students to historical student film and video work.
Temporalities includes a screening programme by current and past students, as well as a series of lunchtime conversation events which will examine moving image in the college from various angles, its impact on and relationship with the art world, and the changing role of moving image media in art practice - view the full schedule of events.
For this final week of the exhibition (20 - 24 March) playing continuously in the screening room is a programme of moving image work by BA Fine Art graduates, which includes compilations of the 'scratch film' projects from the 1960s through to the 1990s, and other film and video work from those decades by Gill Eatherley, Dominic Dyson, and others.
A Botanical Film (2015) by Julia Parks continues to screen in the gallery, and Daria Blum's video installation GSHM2 (2017) continues in the Lethaby entrance foyer.
Correspondence
Correspondence is central to the Temporalities exhibition. It consists of moving image based installation works by current Central Saint Martins students from MA Fine Art, MA Contemporary Photography: Practices and Philosophies and MA Art and Science. The installations are responses to past students' film and video work held in the Fine Art Programme archive.
Susan Trangmar (Reader Fine Art) and Steven Ball (Research Fellow Fine Art) have worked closely with the students to develop this project. The responses take many forms and draw upon a variety of aesthetic, technical, media, and conceptual concerns. They variously reflect a continuity and development of, and divergence from, the themes and approaches of earlier generations of Central Saint Martins students. Throughout the exhibition the original works will be screened alongside the new responses. Visit the Correspondence webpage to read more about the pieces and hear the artists discuss their work.
Event series
Throughout the exhibition there were continuous screenings of student work, past and present, in the Lethaby Gallery event space; a series of discussion events which examined questions about the past, present and future implications of fine art moving image at Central Saint Martins and beyond; in addition to three curated complementary evening screening programmes which were presented in Lecture Theatre E003.
This exhibition has been jointly curated by the British Artists' Film and Video Study Collection and the Central Saint Martins Museum and Study Collection in collaboration with the Fine Art programme at Central Saint Martins.