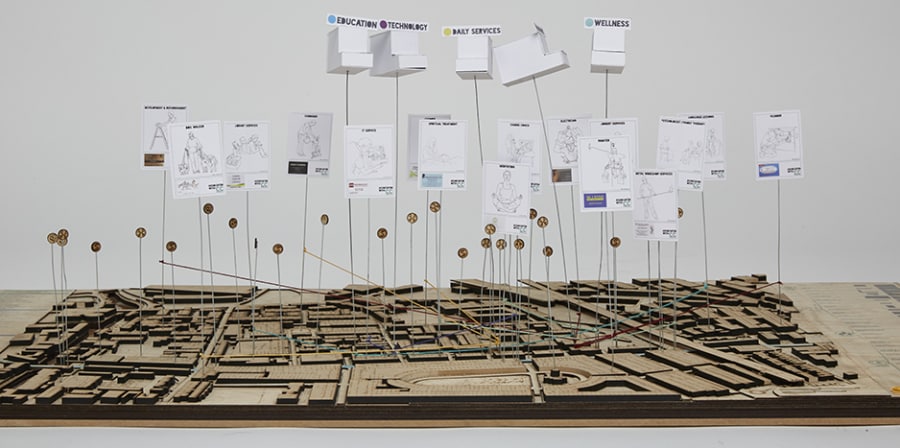 The Fixers directly engage with physical and social contexts, seeing them not so much as 'problems' - because seeing the world as a set of problems is rather miserable and so counter-intuitive to the intelligent optimist - but as situations to make productive sense of. Fixers are both deeply practical and very lateral, seeing things from the side in order to get fresh vistas.
Recent BA Architecture graduate Luiz Conceicao told us about his local project 'Collaborative Cally' and his hopes to challenge people's traditional understanding of architecture.
Tells us in a bit of detail about your project.
How can local economies adjust to take advantage of underutilized locations and the skills of local people along Caledonian Road? 'Collaborative Cally' develops a framework for a new sharing network based around the redevelopment of a series of currently vacant corner shops along the High Street.
Each new contemporary corner shop acts as a centre for a different specialism - technology, education, daily-services, homeware and wellness - a network of different skills and exchange that is based on a detailed survey and understanding of the talents of various people in the local area.
What inspired this project?
The idea of collaborative consumption in the 21st century - we have been moving from an individualist high consumption to a collaborative consumption life style. We no longer need 'superfluous' items; we need a sense of community where participation is fundamentally important. We now live in a 'global village', where there is an entire marketplace for efficient peer-to-peer exchanges of skills, stuff, space and time
How did King's Cross and the surrounding area inspire you?
Here there is a great amount of cultural diversity that has a lot of potential. The problem is that this diversity is joined by a huge segregation issue. Instead of bringing together and allowing the mixture between these groups, they are displaced from each other. The evident question then was how to bring these groups together to allow skills, knowledge and experience to be exchanged between them.
Specifically in the case of Caledonian Road we saw the opportunity to allow such exchange to happen. Here such groups already meet on the High Street, but they don't exchange; it is used as a transitional space rather than a gathering social space. Making use of under-utilized assets, empty corner shops for example, my ambition was to convert these spaces into meeting points/communal spaces or social-hubs.
Do you think that social collaboration and a sense of community is a key aspect of architecture?
The major goal is to stop understanding architecture as unique and singular objects, and start to understand and produce architecture as a strategy, a process, a system of relations, in which both time and the user takes part and the essential matter of space is energy.
We strive towards an inclusive framework of public participation in design where cultural segregation can be countered with the creation of wider and more integrated communities. Here new technologies unlock a hidden wealth of under-utilized resources, through efficient models of redistribution and shared access. Skills Swap, Collaborative Life-style, Volunteering, Time Banking, Trusting Strangers, Local Manufacturing are Sharing Resources are our tools to unlock person-to-person and crowd driven investment models that decentralize finance and allow the rise of the Micro-Entrepreneurship.
Do you think that intelligent, optimistic design is essential in solving social problems?
I do believe that this sort of design is the key for such issues. Design through its methodologies has the power to not necessarily solve, but to change perceptions and therefore bring create alternatives.
In the case of Collaborative Cally, it deals with facts that are already there, but brings new alternatives to counter issues. It is meant to work as a regenerator for cultural and socio-economic activity; it supports the idea of urban village acting over Caledonian High Street.
You graduated earlier in the summer, since then what have you been working on?
I have done a couple of field trips back in Brazil, visiting several buildings I haven't been able to visit before; buildings that today are key references to my work. I have also been involved in two individual self-initiated projects: 1, how to make efficient use of modular furniture to allow an office-bedroom work mutually in the same space; using my own bedroom as a study space. 2, two refurbishments, implementing a meditation and garden expansion.
Do you have any upcoming projects?
I am currently working at an architecture office trying to get as much experience as possible in order to continue with my studies on the following year.
What do you hope people will take away from seeing your project at The Intelligent Optimist?
The major goal is to stop the understanding that architecture is simply unique and singular objects and start to promote architecture as a system of relations and the a stage to exchange social and cultural interactions, translated into a unique spatial experience.