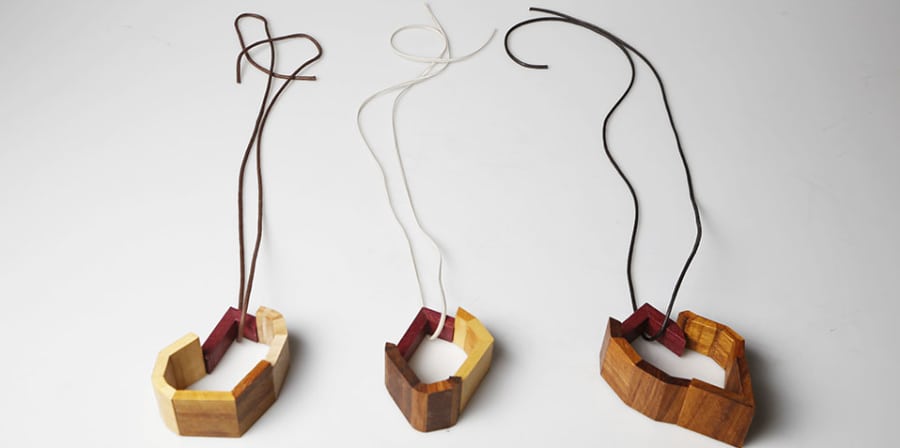 These are the designers whose work is embedded in social and political contexts, and whose aim is to transform the status quo for the better. Social agents expand the actions of design beyond the object, paying attention to the spatial contexts and immaterial processes in which design is always situated. The designer can often operate most productively by intervening in these processes.
Social Agent Yuxi Sun joined us to talk about her inspiring project 'The Diary of a Couchsurfing Host' and how she came to create 62 pendants that tell their own individual story.
Tells us a bit about your project?
For the past year I acted as a Couchsurfing host. My project was sort of a social experiment, I wanted to record the interaction between my guests and myself but also create something that would reflect my personality and attitude towards life. I made 62 pendants, one piece for each of my guests to record the experience. It is a social experiment and this is essentially a piece of evidence.
How did use the pendants to record each experience?
There are intricate pieces of information and details behind each pendant. I decided to create a list of ten rules that I would take into account when constructing the pieces. For instance I would base the type of wood I used on the season they stayed with me, and how I felt about them. Each piece also includes a part that represents me and I always remain perpendicular to the guest aspect of the jewellery. Within each one there is also a small engraving which states the number of miles they had travelled. The information applied to each object makes them very individual.
What were the highlights and difficulties you came across when working on this project?
The most difficult part for me was determining how I would translate the experience into the object and deciding what I actually wanted to take from this project. I knew that I wanted to express an idea about trust but I didn't have any idea how I was going to translate that. There was a lot of experimenting with different materials and really thinking about the different aspects of the stories I had that I wanted to convey.
Have you told your guests about the project?
Some guests will be coming back to see the show. There is a group of four girls who liked their pieces and were really happy that I managed to record such a short-term life experience into something so detailed. I don't know how much it means for people but for me it is an object that records our interaction and notes how people, generally, trust people very easily and how that trust shifts from being online to real life.
How do you feel your project represents intelligent optimism in design?
Within my project, the intelligent part can definitely be seen through the language that I created through the ten-rule formula, which is intrinsic to my designs. The optimist side can be seen through the general attitude used to set up and create the project and the trusting attitudes of my guests. I think that I have definitely become more open minded since realising this project.
Has this project inspired you to continue working as a 'social agent'?
I am going on to study a masters degree and I think that the ideas that I developed within this project will continue. I am really interested in the social issues that surround Couchsurfing and I want to keep pushing it but I am not exactly sure how I will go about doing so. Perhaps I will send some of my pieces to my guests and in return they can tell me what it means to them and then go from there. Or perhaps I will go from being a host to being someone else's guest and tell my stories from that perspective instead. I do intend to keep working with social issues as the foundation of my projects.