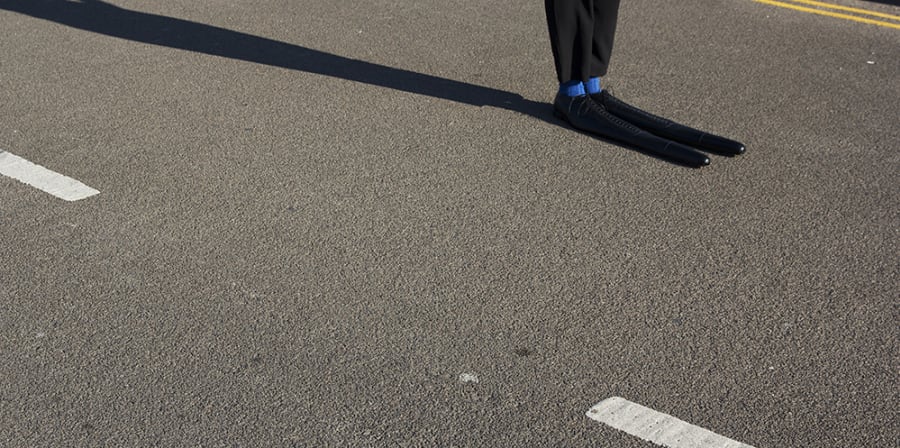 These are the designers who project into future worlds, jumping out from the here and now into as yet unfound possibilities. The future speculator starts with a 'What If?' and then follows the trails that the question sets up. The best speculation might start in a very strange place, but end at a point where the project appears almost self-evident, even rational.
BA Industrial Design graduate Paulina Lenoir spoke to us about the inspiration behind her excessively slow shoes, the importance of considering movement and pace within design and working as a production assistant during the set up of The Intelligent Optimist.
Tells us a bit about your excessively slow shoes.
I started my research is Oaxaca in the South of Mexico where I was learning how to weave with the last family of weavers in a place called Xochimilco. The place used to be full of weavers but now there's only one family left. I saw that people's crafts were disappearing because they couldn't compete with modern fast pace production and consumption. It made me think about how a rhythm is being imposed on us that doesn't suit everyone.
When I came back to London I observed how the objects we use affect our speed and how we often unconsciously adapt to the fast pace of living.
The idea behind the shoes was that they consciously impose a slow pace on the person wearing them. They have a silicone insert to add weight that helps slow the user down. They are made bespoke, adapting the length and weight in relation to your body in order to customize your speed.
How did you go about making the shoes?
I made the lasts in Monterrey Mexico with Jesus Alonso who is a designer that comes from a family of ebanists (woodworkers). I made them in his studio with him and his father, extending and sculpting a traditional last by adding a piece of wood and the second was sculpted from a block of wood in relation to the first one. The shoes were made in London, with Mick Duggans (bespoke shoemaker and tutor in LCF Cordwainers) and Jonny Moyler (LCF Cordwainers graduate and bespoke shoemaker). It was a great learning process, which I intend to continue with Mick in his workshop.
Do you think that being aware of your own 'individual rhythm' is important when it comes to design?
I think that it is important to consider that when you design something you might be imposing a pace or a rhythm on someone. The way that a lot of people are working now is through using software to create an object. I like to avoid that because I think that you miss a step where you get to develop your objects and really consider their purpose by having them there physically.
You've undertaken the role of production assistant for The Intelligent Optimist. How have you enjoyed this role as a break from product design?
I've enjoyed it a lot and I've learned a lot! Ulli, the creative producer has a really good sense of space, way of curating and way of getting things done. Paul and Andrew, the technicians, have taught me many tricks in constructing and painting. It's brilliant because I want to work in set design and performance and these skills are all linked. I think it is actually quite similar to product design in a way. I have been able to apply many things that I learnt during the course to work in here. I really feel quite attached to it now!
What aspect of The Intelligent Optimist are you most looking forward to?
Meeting people who are coming and having a chance to actually look through the other work and speak to the people who are exhibiting! The work looks so interesting but I haven't had a chance to look through it all yet.
You graduated this summer, what have you been working on since?
In the summer I did a project with some architects who have a collaborative magazine called Store. For one of their projects they asked my friend and I to come up with a performance and work simultaneously with them creating the stage. The two aspects of the project fed into each other and developed together. We also did a similar workshop with them on disruptive architecture.
Currently my housemates and I are transforming our house into a workshop, studio and rehearsal space and hopefully, eventually we will be able to show work there and invite people to exhibit and perform