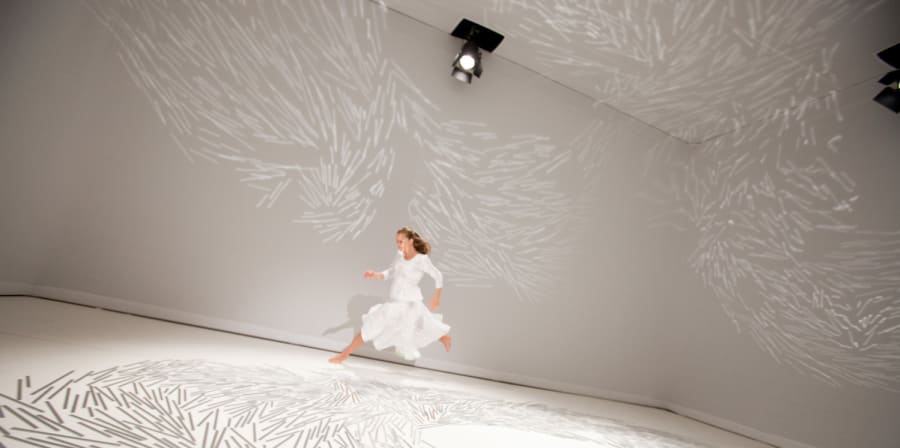 An exhibition of work from 45 years of Caroline Broadhead's diverse practice
11 January – 6 February 2019 | Lethaby Gallery
Bringing together work from across four decades, this exhibition reflects the breadth of Caroline Broadhead's pioneering creative output.
Using jewellery design as a departure point, Broadhead's objects were designed to be worn on the body and changed through touch and interaction. Further encompassing sculpture, installation, performance, textiles and photography, her practice is concerned with the borders of the individual – between inside and outside, public and private and the balance between materiality and image. Often working in collaboration, Broadhead's works are activated by bodies and performers, examining the demarcation of human physicality.
A Central Saint Martins alumna, Broadhead held the positions of Jewellery and Textiles Programme Director and BA Jewellery Design Course Leader for nearly ten years at the College until her retirement in 2018 and is now Professor Emerita. She continues to teach on the course and is a guest lecturer at various institutions in and outside the UK. You can read our interview with Caroline Broadhead for CSM Stories here.
Opening times
Tuesday to Friday: 11am–6pm
Saturday: 12–5pm
Public Programme
Tuesday 22 January, 3pm
Wednesday 6 February, 4pm
Caroline Broadhead will lead two walk-around tours of the exhibition. These are free to attend and no booking is required but there is a capacity of 30 people per event. Each tour will last approximately 45 minutes.
Stay in touch
Sign-up to receive the Lethaby Gallery newsletter.