Online talk with Dr Lawrence English // Chair: Emeritus Professor David Toop
About this event
Digital technologies are critical tools for 'field recording and acoustics ecology' - an area of research which explores the relationship between humans and the environment through sound, and which can inform us of changes in the climate or biodiversity habitats. Digital acoustics tools are being used to capture, edit, amplify sounds from nature and create immersive multi-sensory experiences.
In this talk, we will also explore how tech can be used to sonify signals from the Earth which are not audible by the human ear. Lawrence English, sound artist, will demonstrate his 'electromagnetic scanner', and tell us about inaudible waves and vibrations from the microscopic to the galactic scale. He will take us through 'sound exercises' during which we will explore a deeper sense of listening.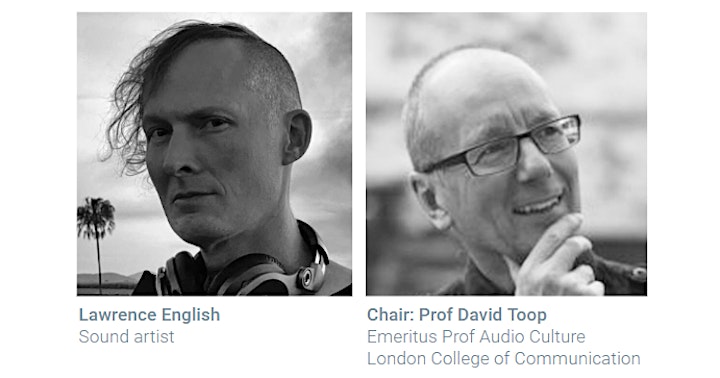 The speakers:
Dr Lawrence English is a composer, artist and curator based in Australia. Working across an eclectic array of aesthetic investigations, English's work prompts questions of field, perception and memory. He investigates the politics of perception, through live performance and installation, to create works that ponder subtle transformations of space and ask audiences to become aware of that which exists at the edge of perception. His PhD research explored the role of audition and creative practices in the sonic arts. In his most recent exhibition 'Site Listening', he has made field recordings ('Songs Of The Living') of environments and creatures around the world, taking part in an ever-growing collection of recordings revealing the unheard sounds of our world.
Chair: Emeritus Prof David Toop is a Professor of Audio Culture and Improvisation at London College of Communication. He has been developing a practice that crosses boundaries of sound, listening, music and materials since 1970. This encompasses improvised music performance, writing, electronic sound, field recording, exhibition curating, sound art installations and opera. It includes seven acclaimed books, including Rap Attack (1984), Ocean of Sound (1995), Sinister Resonance (2010), Into the Maelstrom (2016), Flutter Echo (May 2019) and Inflamed Invisible: Writing On Art and Sound 1976-2018 (2020). He has released thirteen solo albums.