Online talk with Dr Sung Jin Park, Dr Jitka Čejková and Dr Lana Sinapayen // Chair: Elsa Malika Malki
About this event
In this talk, we will explore how the field of robotics draws inspiration from how living organisms evolve and adapt. How do animals learn to walk, or swim - and can we 'grow' robots and teach them complex motion? Beyond the mechanical intelligence of the body, how can living cells and chemical signals be integrated into bio-hybrid robots?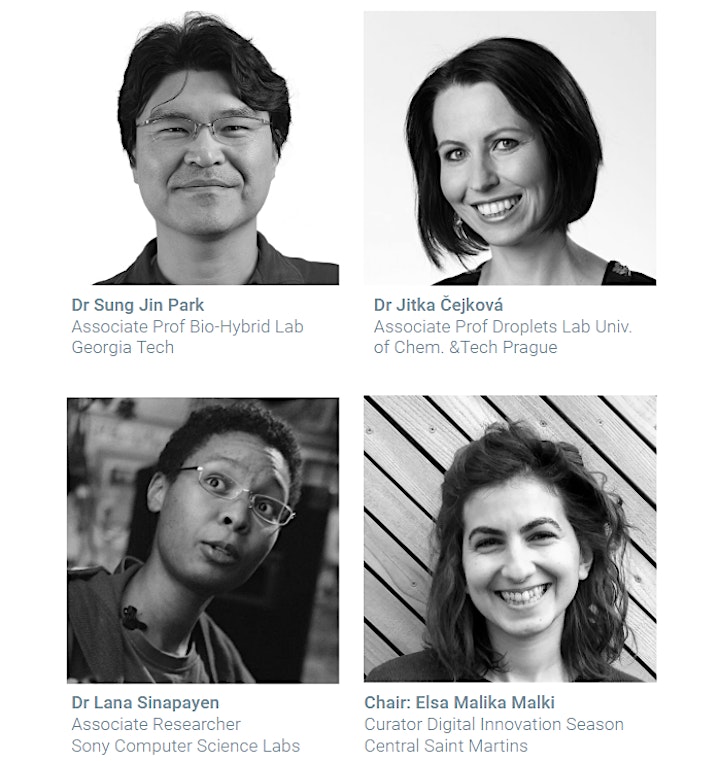 The speakers:
Dr Sung Jin Park is is a mechanical and electrical engineer, and Associate Professor at Georgia Technology and Emory University School of Medicine, where he leads the Biohybrid System Lab. He has developed bio-hybrid robots by combining stems cells, tissue engineering and electronics. He has designed a bio-hybrid stingray robot using rat heart cells controlled by light, and more recently a bio-hybrid fish robot using human rat cells. He researches how biological systems coordinate their hierarchical structures and functions of their individual components, in order to produce emergent physical behaviours – and designs systems to reproduce the target behaviours e.g. activating the contraction of tissues.
Dr Jitka Čejková is an Associate Professor of Chemical Engineering at the University of Chemistry and Technology Prague, and leader of the Droplets Laboratory. She has received many awards for her concept of 'droplets as liquid robots': how particles can be arranged into life-like structures to form chemical robots. She has been researching unconventional robotics, artificial life forms, protocells, origins of life and chemotaxis – the movement of cells. She is the author of the book ROBOT 100 (Vydavatelství VŠCHT Praha, 2020) on the origins of the word 'robot' and the development of artificial life.
Dr Lana Sinapayen is an Associate Researcher and founding member of the Kyoto branch of Sony Computer Science Laboratories. She is interested in the area between Artificial Intelligence and Artificial Life. She researches the fundamental characteristics of living systems and their computational properties, and has collaborated with NASA and CalTech to develop algorithms to deduct the probability that a planet hosts life. Recently, Dr Sinapayen has also been researching human perception using computational models of the visual system. She is a member of the Board of Directors at the International Society for Artificial Life; and a Visiting Researcher at Hokkaido Universit
Chair: Elsa Malika Malki is an environmental engineer, and the curator of Central Saint Martins' Digital Innovation Season 2022. She has 5 years experience as an environmental engineer at Ford, technical representative of the automotive industry at the European Commission, and senior business strategy analyst in Ford's innovation team. She holds a Master of general engineering, is a Chartered Engineer and graduated from the MA Material Futures at Central Saint Martins, where she researched biotechnologies and bacterial processes to recycle rare metals from e-waste.