Online talk with Professor Yukio-Pegio Gunji, Prof Taj Keshavarz & Saša Spačal // Chair: Heather Barnett
About this event
Microorganisms, human cells, and other living systems communicate, memorise and compute by exchanging chemical and electrical signals. What can slime mould teach us? How can swarm behaviour and self-organising living systems be applied to computing? What is quantum cognition? In this event, we will discover cutting-edge research on bio-computing with Professor Yukio-Pegio Gunji, theoretical life scientist, from Waseda University in Tokyo, Professor Taj Keshavarz, biochemical engineer, from the University of Westminster and Saša Spačal, artist working with bio-digital interfaces.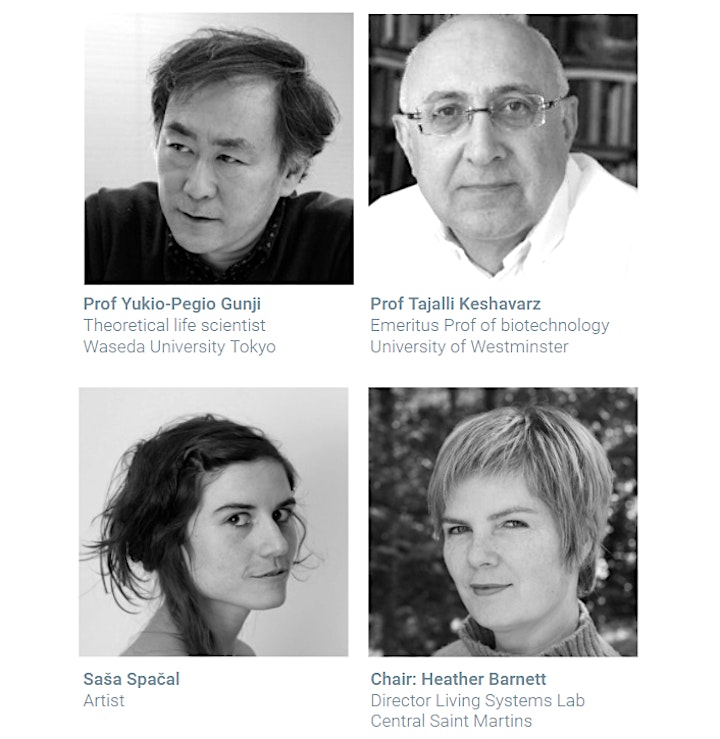 The speakers:
Professor Yukio-Pegio Gunji is a computer scientist, Professor in the Department of Intermedia Art & Science at Waseda University in Tokyo. He was a Visiting Professor at the Unconventional Computing Laboratory at the University of West England, where he carried out research on computing with slime mould. He has also researched swarm behaviours in soldier crabs, self-organising living systems and quantum cognition. He is the author of Life Theory (2006, Tetsugaku shobou), Nature of Time (2008, Kodan-sha), Life-bot No. 1 (2010, Seido-sha), Consciousness of Swarm (2013, PHP. Pub. Co.), Philosophy of Living things and Raw things (2014, Seido-sha), amongst others, and he is the author of over 300 research publications.
Professor Tajalli Keshavarz, born in Tehran, is a biochemical engineer, Professor of biotechnology and Research Director at the University of Westminster. He has been doing research on microorganisms for the past 20 years. Some of his more recent research has been focussed on quorum sensing: communications mechanisms between microbial cells, in particular fungi. Aside from life sciences, Tajalli Keshavarz has a long standing interest in literature and philosophy, and is the author of the books Between Cups of Coffee (2010, Matador), As The Sea Grows Old (2012, Matador), Slowly Sudden (2015, Matador), Memories of Now (2019, Matador), and poems collection The Lotus and the Bird (2011, Shahdad).
Saša Spačal is a postmedia artist working at the intersection of living systems research and contemporary art, focusing on entanglements of the environment-culture continuum and planetary metabolisms. By developing interfaces and relations with soil agents, she addresses the vulnerabilities of the posthuman condition which involve entanglement of mechanical, digital and organic logic within contemporary biopolitics and necropolitics. Her works were presented at venues such as Ars Electronica (AT), Centre de Cultura Contemporània Barcelona (ES), New Tretyakov Gallery (RUS), National Art Museum of China (CHN), Transmediale (DE), Prague City Gallery (CZ), Museum of Contemporary Art Metelkova (SI). She received awards and nominations at Starts Prize (2021), Japan Media Art Award (2020), New Technological Art Award (2019), New Aesthetica Prize (2020), Prix Cube (2015) and Prix Ars Electronica (2015).
Chair: Heather Barnett is an artist, researcher and educator working with natural phenomena and living systems, often in collaboration with scientists, artists, participants and organisms. Her recent work centres around nonhuman intelligence, collective behaviour and distributed knowledge systems, including research with slime mould and ants. She is Pathway Leader on the MA Art and Science and convenor of the Art and Living Systems Lab at Central Saint Martins, a Visiting Associate Professor at Tokyo Institute of Technology, and a Higher Education Academy National Teaching Fellow. Heather is a Research Fellow with SHOAL group at Swansea University and has previously held Research Fellowships at the University of Sussex and the London School of Economics.