Online talk with Dr Erika Berenguer, Gaëtan Robillard & Dr Shridhar D. Jawak // Chair: Professor Carole Collet
About this event
In this talk, we will explore the role of data in identifying climate disruptions, and analysing how ecosystems evolve.
Dr Erika Berenguer from Oxford University will present her research work on tracking the Amazon's deforestation, analysing forest ecosystems and assessing their resilience to climate change.
Dr Shridhar Jawak, based in an Earth observatory in the Arctic, will present the possibilities of using satellite data to monitor polar regions.
Gaëtan Robillard will talk to us about his research on climate data and installation using machine learning.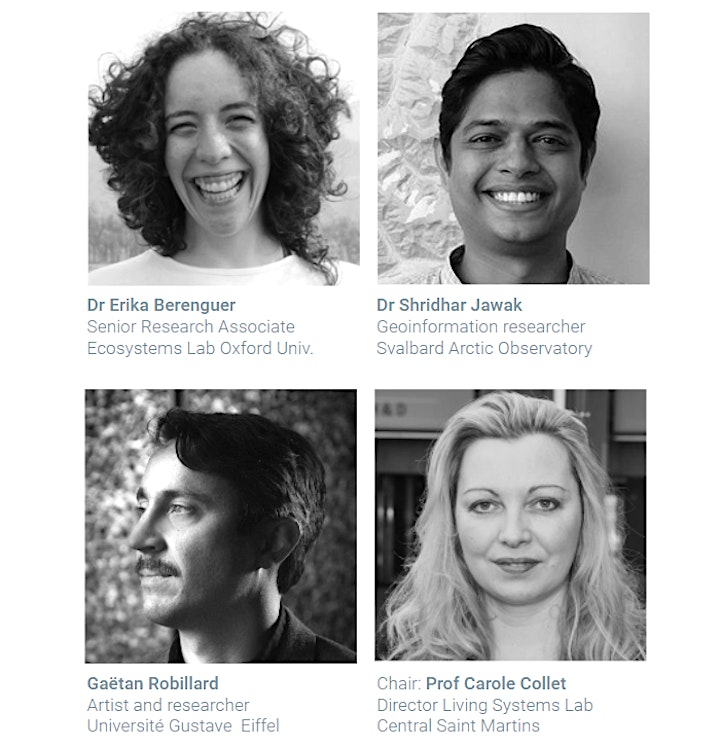 The speakers:
Dr Erika Berenguer is a Senior Research Associate at the Ecosystems Lab, University of Oxford, and a Visiting Research Associate at Lancaster University, and Co-Leader of the UN Science Panel for the Amazon Working Group 7. She works in Brazil-UK research consortiums looking at the impacts of human-induced disturbance, such as selective logging and understory fires, in ecosystems functions and processes in the Amazon. Her interests lie in developing a better understanding of how human-modified tropical forests function, assessing the resilience of these forests in the face of climate change.
Gaëtan Robillard is a media artist and Visiting Professor at Université Gustave Eiffel in France. Since 2007, he has been developing installations that examine the relationships between mathematics, language and climatology. His works have been presented in France and abroad in venues such as the Palais de Tokyo (Paris), the ZKM Center for Art and Media in Germany (Karlsruhe), the CCS Bard Hessel Museum (New York) and the Akbank Sanat (Istanbul). Regularly, Robillard publishes and receives research grants. In 2021 he won the first open call of MediaFutures data-driven innovation hub (European consortium) and became one of its ambassadors.
Dr Shridhar D. Jawak is a Remote Sensing Officer (Senior Adviser) at the Svalbard Integrated Arctic Earth Observing System (SIOS), Longyearbyen, Norway. He has 12 years experience in Earth Observation and Remote Sensing applications in polar regions. He supports Earth scientists in optimising the usage of satellite, aircraft and drone data, and coordinates with space agencies to calibrate satellite missions. Before SIOS, he worked at the National Centre for Polar and Ocean Research (NCPOR), Goa, India, where he was involved in research on Antarctica, Himalayas, and the Arctic. He has participated in 3 summer expeditions to Antarctica and one field campaign to Svalbard.
Chair: Professor Carole Collet is the CSM LVMH Director of Sustainable Innovation at Central Saint Martins UAL, as well as Director of the Design & Living Systems Lab, a programme exploring the interface of the biological sciences and design. Prof Carole Collet has dedicated her career to developing a new vision for sustainable design and pioneered the discipline of Textile Futures in 2000.