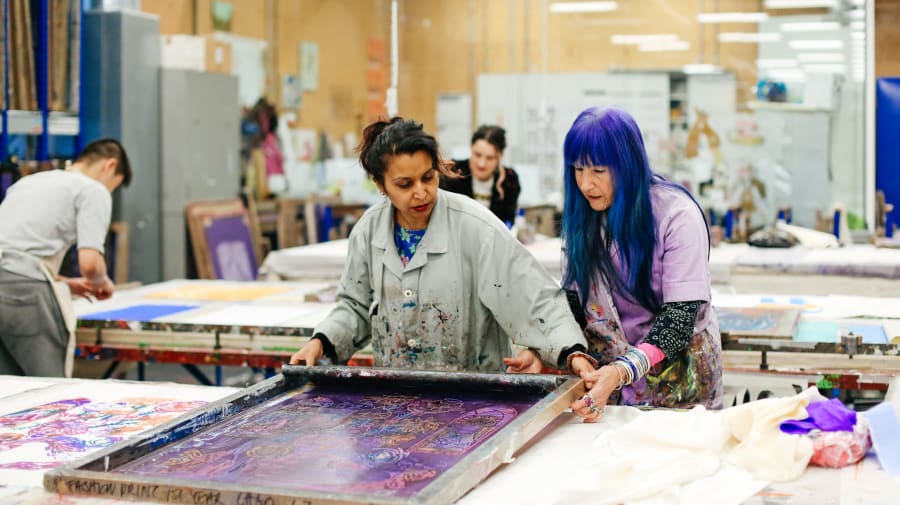 The Print and Dye workshops focus on applying colour and pattern to fabrics or yarns, through screen-printing, heat transfer printing (traditional and digital) and dyeing.
In this space students can screen print onto fabrics, heat transfer print onto fabrics and dye fabrics and yarns. In this workshop students have produced textiles used for fashion garments, wallpapers and furnishing fabrics.
While any student is welcome to visit us, our workshops are primarily used by students on BA and MA, Fashion and Textiles Design programmes.
Equipment:
55 metres of print tables, for both repeat and placement printing
Screens with 43TW mesh
Screen drying cabinets
Screen exposure units
Pressure washers
Wash out bays
Heat transfer presses, large and small
Rotary press
Fume cabinets
Induction hobs
Dye vats
Washing machines, spin dryers and tumble dryer
Light boxes
Questions answered by Specialist Technician June Fish
What can students do here?
This is primarily a fabric screen printing and dyeing workshop. We have about 55 meters of print table space, a substantial number of dye vats, and a heat press workshop for sublimation printing.
Primary users are fashion and textiles students, we can try and accommodate other students if time and circumstances allow it.
We have silk screens of all sizes, and a dark room with two exposure units, allowing large scale screen exposure.
The heat press workshop also contains a rotary press for large scale sublimation printing. We link up with the digital 4D department, who are able to help our students prepare artwork for screens and sublimation prints,
Our dye and finishing workshop also contains equipment for large scale fabric dyeing, steaming, baking and laundering, all part of the print and dye process. Weave and knitwear students also make use of the dye facilities.
What is the most common request you get?
Students who aren't print specialists often request use of the heat presses for sublimation printing for their projects; this is one of our most popular processes, as the results are quite instant and fully resolved.
Students now incorporate more digital work in their design process, so we are moving towards collaboration between digital, dye, print, and decorative processes we offer such as flocking and foiling, to add textures.
Is there a particular project you remember?
Recently we have done some really diverse projects across the courses. Including BA Textiles producing African style print designs for a company called Vlisco, and BA Fashion designing for Gucci.
Have you ever had to say to a student that a project was impossible?
The only processes not possible in the workshop mainly relate to health and safety issues. We don't use anything solvent-based, or anything that gives off unhealthy fumes at high temperatures.
We are open to new materials as long as the student brings a safety data sheet on the products they're using and we can assess it for any potential hazards. We don't like to say no.
Any interesting stories about the workshop?
Celebrity spotting! Since moving to Kings Cross our workshop has featured in Time Out, and The Sunday Observer in a photo shoot with Alexa Chung despite the fire alarm going off! Fashion Designer Matthew Williamson has also done a photo shoot, and Government minister Vince Cable has also been to see our facilities.
How does the workshop fit in with the overall history of CSM?
The workshop reflects the strong traditions in textiles and fashion established at both the Central School of Art and St Martins School of Art.
Central's textile department started as a direct result of the arts and crafts movement, and CSM's Museum archive contains original prints by William Morris, and a vast array of classic designs reflecting twentieth century design.
The fashion courses have a worldwide reputation for producing celebrated designers.
What makes this workshop a special place at CSM?
The workshop has great facilities, and a diverse student cohort, which encourages much experimenting. We see a mind boggling range of samples and designs.