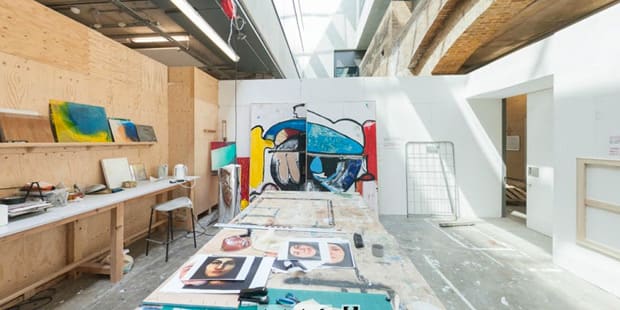 Our paint workshop offers technical support on painting methods and materials, supports, grounds, photo transfer and surface finishes.
The technicians also offer support and advice for the stretching and preparation of fabric such as projection materials and canvas.
It also contains a large spray room which caters fro spraying on a large scale and includes a four metre spray wall and spray guns if required.
The workshop is equipped with the following:
Paint/Surface Workshop
Large Spray Room (K003)
Questions answered by Specialist Technician Caroline List
What can students do here?
Work with mixed media painting materials, canvas stretching, preparation and priming, photo transfer, paint finishes and spray finishes. Make frames and painting supports.
What is the most common request you get?
Shiny resin surfaces/photo transfer on different surface painting and preparing aluminium.
Is there a particular project you remember?
A student transferring images from ink jet acetate onto a two metre canvas, and sealing with glazes and spray varnish.
Have you ever had to say to a student that a project was impossible?
No, just thought of another way to explore the idea
Any interesting stories about the workshop/studio and/or its content?
The very successful painter Raqib Shaw was a regular in the workshop and loved mixing mixing unusual pigments and paint together to create his enamel like surface.
How does the workshop fit in with the overall history of CSM?
The paint surface workshop gives technical advice about all kinds of finishes and materials and is used by Fine Art, Art and Science, Graphic Design, Performance Design and Practice, Product Design and students from a broad range of disciplines so hence reflects the diversity of CSM regarding student outcomes.
What is it about this workshop that makes it a special place when at CSM?
Lovely light, open plan space, friendly helpful environment. It has the only large spray booth extraction in the building, so is in high demand.