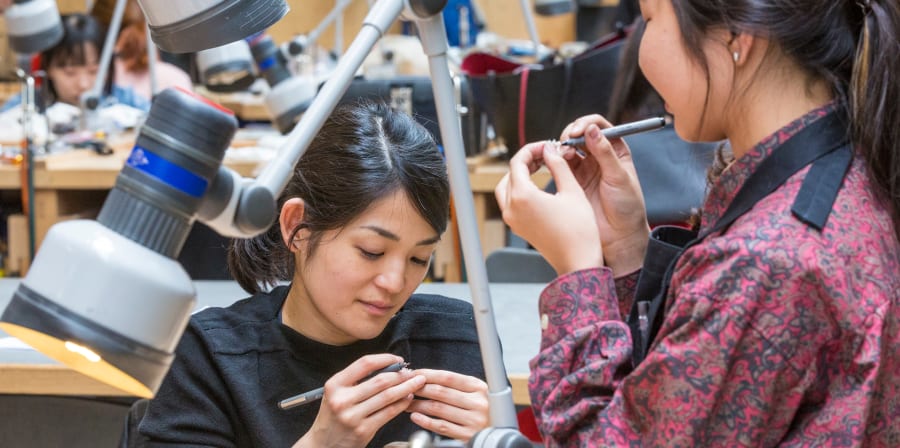 The 3D 1st Floor Jewellery workshops are located in L block on the 1st floor at King's Cross. They include dedicated areas for enamelling, etching, casting, finishing, hammering and machining.
Typical activities carried out in these areas include:
Enamelling
Etching
Casting
Finishing
Hammering
Machining
Question answered by Specialist Technician Campbell Muir
What can students do here?
This workshop is very self-contained. And I think the jewellery students have one of the best hands-on access in the college. We don't do things for them, we very much push them into it. Even though it's a design-led course, they have to know how to make. Here we can do woodwork, plastics, rubber prototyping, laser cutting. We have chemical rooms for resin investment, patination… We also have a hammering room, which allows students to do forging work, and a casting facility. It means the students don't have to go to other workshops to do their castings, they can be much more experimental.
What is the most common request you get?
How does the hole puncher work? That and how to make screws. I could make screws in my sleep!
Is there a particular project you remember?
A Korean student who had never done forging, and she made huge bulbous head pieces, almost body prosthetics. They were based around her mum, who had cancer, and she made these head pieces almost like beehives… She had never done forging, and the speed at which she learnt to do this herself as well as the collection was absolutely fantastic. It was impressive.
Have you ever had to say to a student that a project was impossible?
Quite often. Some things are quite obvious. The students themselves know before they even ask. There is an enameling technique called Plique-a-jour, so you can make a dome and cut sections off it and place the glass enamel on top of it, it makes something like a glass film across the whole. Students want to do it in wire structures that move like chainmail. Obviously every time you do that, not only will the sections not line up, but each time it moves it will smash the glass out.
Any interesting stories about the workshop/studio and/or its content?
Some of the techniques in jewellery have not changed for hundred of years. It's quite nice to see how long our equipment lasts and how well it's used. We had an exhibition at Southampton Row from 1908, there were young apprentices learning how to be silversmiths. And in the photographs you could see several pieces that we had in our office and used regularly. It's the longevity of the techniques that is nice to see.
How does the workshop fit in with the overall history of CSM?
When it was Central School, it was more about silversmithing. But when it joined together with Saint Martins it became Jewellery and Silversmithing. The actual course has been here since it began. There is a long history and a lot of important jewelers coming from here.
What makes this workshop a special place at CSM?
Because we're so self-contained, we have an amazing sense of community. We get to know almost all of our students. And because we know them well, we can help them better, because we have a sense of what they are trying to achieve and ask from us. By the time they get to third year, we have a good sense of their personalities, and we understand the ideas they are trying to convey to us.
Because they almost only use our workshop, they have a sense of ownership of the place, and they understand that this is their place to use and make the most of.