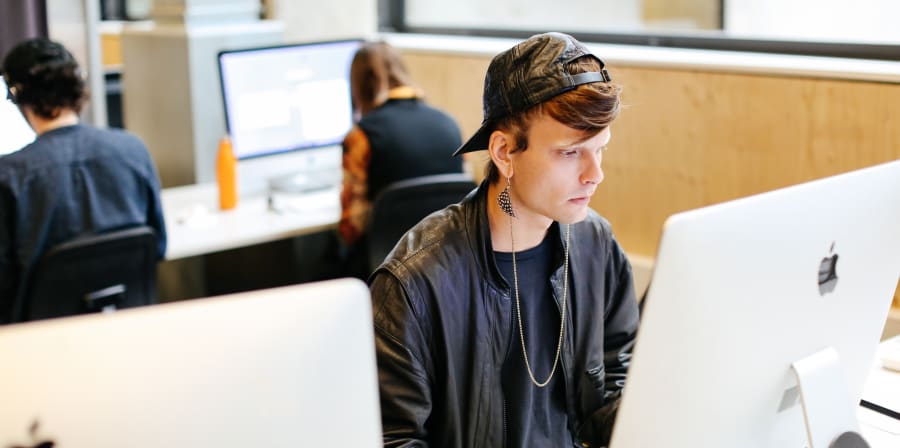 The Digital Media facility provides a variety of digital learning spaces that support both taught sessions and open access.
The facilities are equipped with Apple Mac and Windows PC desktop computers, flatbed scanners and teaching projection monitors. All computers have industry standard creative software and open source applications.
Direct technical support is available by appointment in areas such as vector graphics, image editing, video and sound, motion graphics, projection mapping, creative coding and web design.
What can students do here?
Students can do virtually anything that is digitally related. The workshop handles the digital media aspect of whatever the students are faced with in their various curricula.
For example, drama students will usually need help with digital video. Working with digital video now forms a significant part of what we do in Digital Media. This ranges from students who only need basic information to get them off the ground for a one off project whereas others might want to go further and specialise more in digital video, in which case we would direct them to the Post Production suite where more in-depth help is available from our specialist technicians in that area.
We also teach all aspects of 2D and 3D design and the related software - Photoshop, Illustrator, InDesign, Maya, presentation software etc. Perhaps the fastest expanding area of activity is in interactive and web related design where we aim to be leading in reinventing the design landscape. We also have a physical computing workshop (we often refer to this as the interface between the physical and the virtual) where we'll take environmental input, for example temperature, light, movement, and use this as input data which is transformed into a mechanical or a computer display for instance. The possibilities are endless which makes this a very exciting area to work in.
What kind of requests do you get?
The primary users of the workshop are Graphic Design and Fine Art students but we get to see students from virtually all disciplines – just about everyone in the building passes through here at some point in their University career.
Video is one area which almost every student from every department will touch on at some point during their time at Central Saint Martins but we are mostly enabling students feel comfortable using digital media tools as an integral part of their creative workflow.
Is there a particular project you remember?
Too many to single out one! I particularly enjoy helping with animation and special effects projects, especially with graphic design students who have a slightly offbeat or leftfield approach to animation which has produced a number of really interesting (and quite demanding) projects.
Have you ever had to say to a student that a project was impossible?
Many times. Two of the most important aspects of the role of the Specialist Technicians is the formative assessment of students' work and helping to develop their ideas. Students will often not appreciate how labour intensive some of the work that they see online or on TV etc and want to do something similar. Very often though in finding a more realistic, attainable solution you end up with something much more interesting and unique. Luckily we are working with extraordinarily talented young people that will view limitations as a creative challenge.
Some thoughts about the equipment
The Digital Media Workshops are very well equipped, especially in film and video. When we moved to King's Cross, a huge amount of investment has been spent on the workshop. We have two film studios with green screens and up to the minute professional lighting equipment, sound recording booths for doing voiceovers or creating musical masterpieces, individual edit suites, for long video projects and a sound recording studio which wouldn't look out of place in the BBC. We also have a wide range of equipment that students can borrow for free from our loan store. We really are very well equipped now.
How does the workshop fit in with the overall history of CSM?
As digital media became an increasingly large part of the curriculum of various different departments, each course developed their micro facility. Since we've moved to King's Cross, we have consolidated all of these facilities into one big resource which gives students access to a far wider range of expertise than previously.
What makes this workshop a special place at CSM?
You have all of the experts on digital media in one place, a one stop shop where we can facilitate just about anything in the digital world that students want to do. What makes it special is that not only is everyone here very talented, but also very approachable and helpful. Students will always get a very sympathetic ear, no matter what the question or problem might be.
I think we provide a massively important part of the students' education, which will help them with their career for the rest of their lives.
We believe that students with little exposure to digital media will graduate feeling comfortable with it, and students who are very advanced will make close alliances with the staff and will be guided to even greater heights.