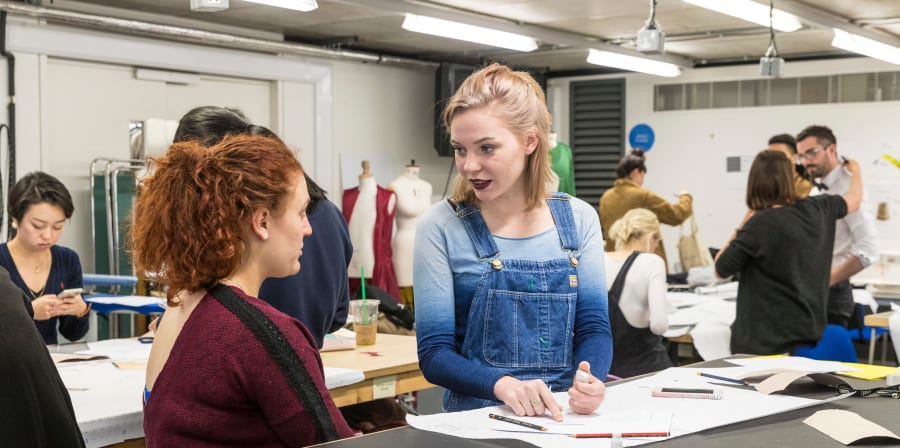 Our performance costume facilities are divided into two areas: costume studio and the costume resource space.
Our costume workshop allows students to explore costumes for performance. The students can do everything from period cutting, prop costume making, clothing, dyeing, distressing to ageing costumes and printing.
Questions answered by Specialist Technician Jenny Hayton
We let the students have ownership of the space: it's a flexible space that we set up more like a studio rather than a theatre costume workshop. It feels a bit more fluid and creative.
What can students do here?
Within the workshop, students can explore and experiment with any area of costume or any element of material and fabric that is involved in a performance. This can be in its broadest sense. Within the department, students can make costumes for a number of performances: dance, theatre, opera, devised, physical theatre, installation…
What is the most common request you get?
There isn't a common one, because every project and every costume will have a different demand. It's so varied. At the moment we're doing restoration period costumes, so students might have technical requirements. We are problem solving all the time.
Is there a particular project you remember?
We did a collaboration with the Fine Art course, it's always a project that I really enjoy. It's always interesting to work with a different cohort of students, from a different course with elements of performance, time based pieces. Seeing the different approaches, and how they might come together.
Have you ever had to say to a student that a project was impossible?
Anything potentially hazardous is risk-assessed. Something I remember that didn't work, wasn't directly related to costume, but it affected the entire production. A student wanted to do a live dissection of a mouse, learning how to do it from YouTube. We worked out how to do it safely, but it still didn't pass the Health and Safety risk assessment criteria.
Any interesting stories about the workshop/studio and/or its content?
We have a facility called the Costume Resource Space, which encompasses a collection of costumes that have been used in performances, and can be booked and hired. This can be used in performances, or to experiment in rehearsals, or installations… in any way that a student wants to interact with the collection.
This is primarily a resource for Performance Drama Centre, but other students can access the facility through negotiation.
We also have an archive of costumes, called the Stage Costume Collection, which is classified as a special collection. After a bit of research on the provenance, we realised there are costumes in that collection that would have been collected by Norah Waugh, who wrote The Cut of Men's Clothes and The Cut of Women's Clothes. They are featured in her publications. She taught on the course in the 1950s, and the costumes are directly linked to documentation that is held in the Museum. We use the Stage Costume Collection as a teaching collection, through handling and interaction.
How does the workshop fit in with the overall history of CSM?
This was one of the first courses at Central School of Art. The premise of the course is about the body and draping. The collections that we have would have been used in drawing exercises.
What makes this workshop a special place at CSM?
The nature of costume: it's to do with the body, and it's quite personal.
All the pictures on the walls are from the students, it's their ideas about costume, not ours. It is where everyone congregates, and where most collaborations will actually happen.
We organise wig and tea parties, to try and meet people. And we've done it for the students as well. We invite people to come and have tea, lay out wigs and people can experiment. We get to know other staff members, other students…