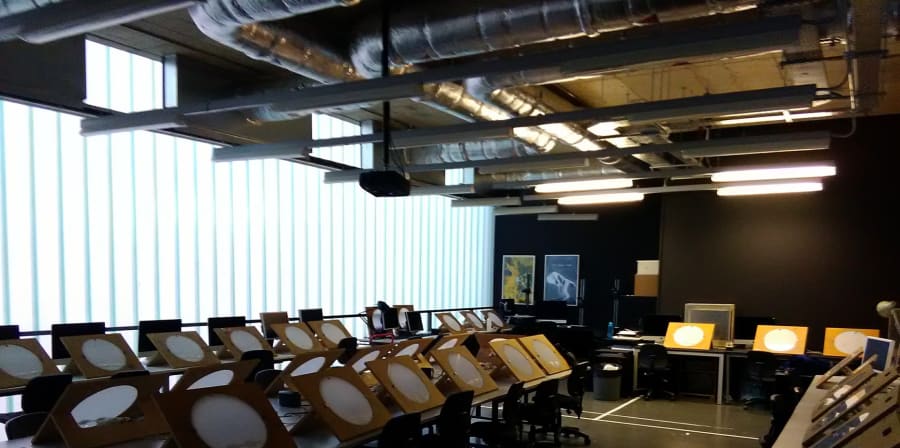 The animation studio is a single, open-plan studio with tables and seating suitable for drawing and small group project work.
Questions answered by Specialist Technician Anita Delaney.
What software is available for students to use?
There is Dragonframe so students can do stop motion animation. There is of course the Adobe Suite: Animate, Premiere, AfterEffects and Photoshop. There is also some specialised animation software: Maya, TV Paint and CelAction.
What are the most frequent requests you get?
It goes in two strands: there is animating, and there's learning to use the software. It's two different things, even though now everything is mediated by and done through software. The actual art of animation: giving something character, personality, the sense of weight, timing or drama is a separate thing. This is the hard part: helping someone to achieve something technically, but also have that sense of animation, the art of acting and all of that. Students can get quite fixed on the idea of learning the technical skills, but to do animation well, you have to have that sense of physicality and timing as well.
Is there anything impossible to do within our facilities?
It's about managing expectations. There are ways and means of doing a lot of things. Obviously we are not a Hollywood production studio, so there are limitations there, but we have very good facilities with green screen, and a lot of computing power.
How do students interact with the facility and with you as the specialist technician?
I teach classes. Generally if I'm free I'm happy to see students, but it helps if they send me an email in advance. If a student has specific needs, it's about organising the time to see them.
How does this workshop fit in with the college?
There is an art to animation. On Lynda you can learn the software, you can learn how to technically achieve things, but it's about having the peer group and staff and the specialist's tools and skills available to actually do the art justice. It's a specialist area, but it's thriving as an industry and an art form.
What are the main users of the facility?
The really specialised software is used primarily by Animation students; but the rest is used by everyone: Graphic Design, Illustration, Fine Art, Fashion…