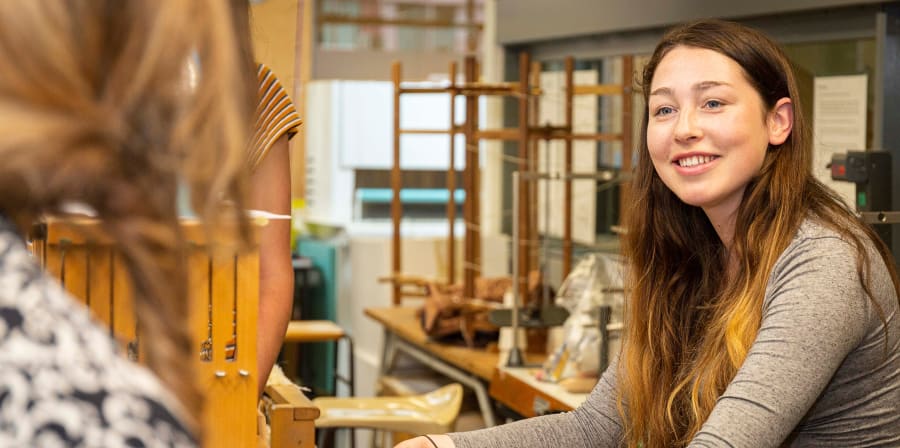 BA Textiles: Weave winning student, Hannah Livesey, talks about the use of light and shadow in her work.
"I wanted to create a structural weave that would enhance the beauty of natural light."
I chose yarns for this project carefully, ensuring that they produced fluctuating shadows and a sense of layering and translucency - I wanted to create a structural weave that would enhance the beauty of natural light. Incorporating crystals into my design enhanced this as they reflected light, much like a disco ball.
My project had several dimensions in terms of conscious design. My samples were made entirely from natural yarns - this means that they will biodegrade more easily than if I had combined them with synthetic fibres. I also created my own natural dyes from turmeric powder and blueberries to colour my weft yarns. It was also important to me to make sure the crystals were used consciously to shed natural light, and to reduce the reliance on electricity.
I think my weaves would work well in a commercial setting as lighting installations or perhaps as wall partitions. Commercial areas can feel rather sterile and uninspiring and I feel that my weaves could enhance this environment.
This Little Light of Mine
What is the inspiration behind your project?
I decided to centre my visual research on Portobello Road Market where there are heirlooms and antiques clustered in every shop. I wanted to inject a sense of longevity into my project - drawing inspiration from old, passed-down objects was a way of promoting how we need to appreciate our possessions rather than throwing them away with the next trend.
What does conscious design mean to you?
Conscious design is anything that supports using sustainable materials or designing in a way that will benefit the planet. We mustn't only design to make things aesthetically beautiful, we need to engineer them to be sustainable for our future.
As a designer, would you say that you're consciously minded or do you put more emphasis on the creative process?
As a student of Central Saint Martins, and being brought up in my generation, designing with a conscious mind is inevitable. Of course creativity will always be a big part of it but initially I think about which sustainable materials could be used or how I could weave to make a material that will be durable. If an item needs to be disposed of it's important to ensure that it would have a minimal impact to the environment.
What is your creative process, do you usually have a vague idea in mind and work towards that or do you just let your creative research guide you?
For me it's important to be flexible as when you are working with a loom, materials do not behave the way you would sometimes expect. I do usually have a vision of what I want my final product to turn out like, however tests and trials will always alter the outcome of my work and that's the exciting part. Being experimental is important to find the best version of your initial vision.
How was it working with Swarovski crystals? Is it a material you have worked with before?
Working with Swarovski crystals was very challenging for me. I have not previously worked with such intricate embellishments before, so finding a way to incorporate them was challenging. It was especially challenging to obtain the effect I wanted, enabling light to shine through the crystals. This project has certainly made me think more broadly about materials that I could use in my future projects, not only to experiment with yarns but also more elaborate and luxurious additions like crystals.